Faculty Affairs and Professional Development
Building a vibrant, diverse faculty and supporting professional growth.
Faculty Affairs & Professional Development
Review information about faculty appointments, promotions, roles and responsibilities.
Meet our staff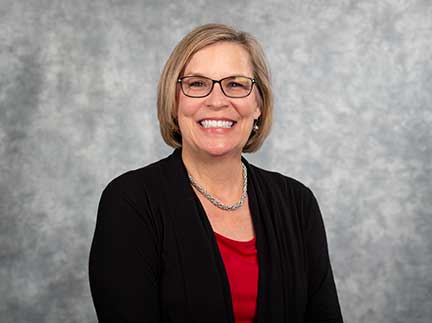 Christine Boswick
Boswick, Director of Faculty Affairs, has spent most of her career at EVMS and has a wealth of experience in areas related to faculty and students. She administers processes and committees covering faculty appointments, employment agreements, reappointment letters, and annual letters of compensation, promotion and tenure, including letters of offer. She manages the Faculty Affairs database and provides data to institutions, accrediting bodies and EVMS departments. Boswick manages the Dean's Standing Committee process and notification letters, and supports the faculty annual appraisal process. Boswick is instrumental in the annual faculty appreciation events. She is a member of the AAMC Group on Faculty Affairs.
Read More
Judith Taylor-Fishwick, MSc
Taylor-Fishwick studied education at King's College, University of London. She has 14 years experience as a principal investigator and co-investigator on grant-funded research projects including those focused on education. Taylor-Fishwick lead the United States-based office of the National Respiratory Training Center, where she was instrumental in upgrading curricula to meet the changing needs of the healthcare workforce and expanding delivery options through distance education. In her current role, Taylor-Fishwick organizes faculty development initiatives, including those offered by the Fine Family Academy of Educators. She has been a member of various committees at the National Institutes of Health and is currently a member of the AAMC Group on Faculty Affairs and AAMC Group on Educational Affairs.
Julie Miller
Miller, Executive Assistant, supports the Vice Provost in all areas of EVMS Faculty Affairs and Institutional Effectiveness. She coordinates the day-to-day functions necessary for the operation of EVMS Faculty Affairs and Institutional Effectiveness. Through working in various roles at EVMS, with over 7 years assisting in Forensic Psychology, Psychology Internship Program, EVM Psychiatry Clerkship and M4 Psychiatry Electives, she attained a well-rounded understanding of faculty and student needs. Julie is involved in the planning of events including professional development workshops, faculty appreciation, wellness and Women in Medicine and Science annual events. Julie attended the University of Michigan.
Maura Murphy, M Ed
Murphy serves as the Faculty Affairs Specialist for EVMS, managing the faculty database, coordinating Institutional Standing Committees, faculty events, faculty reappointments and supporting the Director of Faculty Affairs on reporting and other projects. She has 16 years of higher education experience, starting as a graduate assistant at the University of Alabama dealing with facilities management and special events. Her next role as VCU's Pipeline Program Coordinator for unrepresented students shaped her desire to work with clinician educators and students wanting to go into healthcare. As Registrar and faculty liaison for The Art Institute of VA Beach, Maura managed several database programs and strengthened her skills on accreditation requirements and compliance.
Previous
Next