Welcome Alumni!
2015 Alumni Weekend, October 16-18
Register now for Alumni Weekend and Wine Festival. We hope you will join us for our biggest event of the year!
Open to all Alumni
The weekend includes:
Friday, Oct. 16-POETS Reception
Saturday, Oct.17-Alumni Chalet at the Virginia Town Point Wine Festival
Sunday, Oct. 18-Complimentary Tours and Breakfast
Registration required for all events. Early bird registration until September 18.
Click here for additional information and accommodations.
EVMS Alumni Gear
‌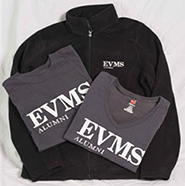 ‌We are pleased to offer a variety of EVMS Alumni items for sale. They serve as reminders of your alma mater and make wonderful gifts for your friends and recent graduates. Order yours today!