Welcome Alumni!
You finished your training as an EVMS student or resident, but you're still part of who we are.
EVMS Alumni Relations helps you maintain important connections to colleagues, classmates and faculty forged during your time here. We also provide opportunities for alumni to interact with students, so today's learners can benefit from the lessons that shaped your career.
We hope you will enjoy the camaraderie of more than 8,000 medical, health professions and residency alumni by exploring ways to stay involved with EVMS and keeping us informed of your accomplishments .
EVMS Alumni Gear
‌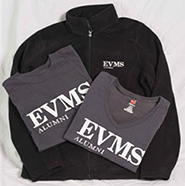 ‌We are pleased to offer a variety of EVMS Alumni items for sale. They serve as reminders of your alma mater and make wonderful gifts for your friends and recent graduates. Order yours today!