$1 million gift from Dr. Howard Jones Jr. will fund reproductive medicine research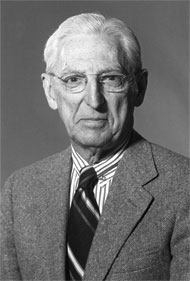 Howard Jones Jr., MD, the nation's father of in vitro fertilization and co-founder of the Jones Institute for Reproductive Medicine at EVMS, died July 31 at the age of 104. Now, not only will his legacy live on at EVMS because of his groundbreaking research but also because of his generosity.
Last spring, Dr. Jones and his children made a $1 million gift to EVMS to establish an endowment known as The Jones Family Reproductive Research Medicine Fund. The gift was made in honor of Dr. Jones' late wife and lifetime research partner, Georgeanna Jones, MD.
The endowment will provide perpetual funding for research endeavors specific to reproductive endocrinology and infertility. It will ensure that the Jones Institute will continue to lead research initiatives in reproductive medicine and will play a key role in active clinical trials.
"Dr. Jones was very supportive of our research to identify biomarkers that will help increase the probability that a single embryo transfer can be successful," says Sergio Oehninger, MD, PhD, the Henry Clay Hofheimer II Chair in Obstetrics and Gynecology, Vice Chair of EVMS Obstetrics and Gynecology and Director of Reproductive Endocrinology and Infertility at the Jones Institute.
"Dr. Jones was so humble about this gift," says Richard Homan, MD, President and Provost of EVMS and Dean of the School of Medicine. "He asked us not to make an announcement about it until after he passed away. We lost a truly great man in medicine and science when he left us, and I'm very grateful that his philanthropy will allow EVMS to continue his pioneering work."