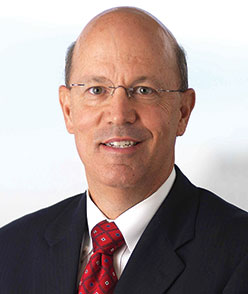 More than 40 years ago, the community founded our medical school to combat a shortage of specialty and primary care in the region. While we are proud to continue to meet the clinical workforce needs of the commonwealth and beyond, EVMS also contributes to the development of new knowledge and science, which leads to advances in the practice of medicine.
In this edition of EVMS Magazine, we explore new opportunities that are enabling EVMS to improve the health of our friends and neighbors through scientific discovery:
The Fetal Cardiovascular Center, led by Alfred Abuhamad, MD, recently received a $2.7 million federal grant to study the human placenta. Dr. Abuhamad's findings will develop new technology applications to improve and deliver more effective care for high-risk and normal-risk pregnant mothers. Read more about the Fetal Cardiovascular Center.
EVMS scientists have found what could become a new way to identify people at risk for developing diabetes. That discovery may lead to the development of new treatments to actually prevent the disease. Read more about the research.
Our feature story focuses on the grant-funded research that we hope will modify teen attitudes toward e-cigarettes and help curb the alarming vaping trend among youngsters. Read the story.
We are fortunate to have so many caring supporters who share our vision — individuals like Joan and Macon Brock, whose 2012 gift established the M. Foscue Brock Institute for Community and Global Health at EVMS. The Brocks received well-deserved recognition for their generosity recently in New York City when the Association of Fundraising Professionals named them the 2015 Outstanding Philanthropist. Read about the Brocks.
You may have noticed you are receiving our magazine more often. There is just so much good news to share that we have expanded our magazine from three to five issues a year to deliver it in a timelier manner.
Thank you for your continued support of EVMS. Our successes and discoveries are only possible because of you.
Sincerely,
Richard V. Homan, MD