Level 1 trauma center marks 30 years of service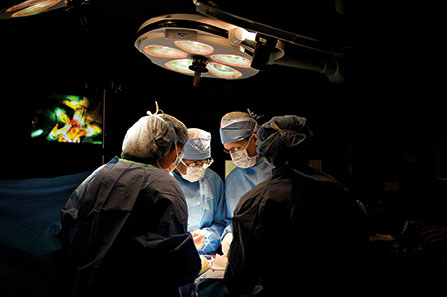 Thousands of lives have been saved in the 30 years since Sentara Norfolk General Hospital (SNGH) and EVMS partnered to open the region's only Level 1 Trauma Center.
The SNGH/EVMS team partners on one of only five Level I trauma centers in the state. The Level 1 designation indicates that the center is capable of providing total care for every aspect of the most life-threatening of injuries — from prevention through rehabilitation. And for the past three decades, EVMS surgeons have been on call 24 hours a day, 365 days a year to make that care possible.
"EVMS Surgery plays an integral role in the trauma center, and we are proud to care for the critically injured people of the region," says L. D. Britt, MD, MPH, the Edward J. Brickhouse Chair in Surgery, the Henry Ford Professor of Surgery, and Chair and Professor of Surgery.
The trauma center handles cases from Williamsburg to the Outer Banks, provides trauma care for the Navy and takes all pediatric trauma cases in the region.
October marked the official 30th anniversary of the center.