Students earn perfect score on licensing exam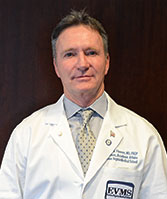 Each year, second-year medical students nationwide take a nerve-wracking test of their medical knowledge.
The test is "Step 1" of a three-stage test known as the United States Medical Licensing Exam. Students must pass all three parts — taken at various times during their training — to earn a license to practice medicine.
This fall, students in the EVMS Class of 2017 pulled off a rare feat when all of them passed Step 1 of the exam — on the first try. Nationwide over the last two years, the average pass rate was 94.5 percent.
"This is a high-stakes exam," says Ronald Flenner, MD (MD '89), James E. Etheridge Jr. Distinguished Professor, Professor of Internal Medicine and Vice Dean for Academic Affairs. "Many residency programs won't even consider students who have failed Step 1."
Derwin Gray, MD, a member of the EVMS Board of Visitors, took note of the accomplishment at the board's September meeting. He praised the students for "stepping up to the plate and hitting the ball out the park." He credited the administration, the board and the faculty for their roles in the achievement.
Dr. Flenner also attributed the success to the students — with a little assistance from the school.
"We've had support from the administration to provide practice exams that were administered prior to their sitting for the USMLE exam," Dr. Flenner says. "We also had support from Academic Development to help equip students with the study skills that facilitate success."
---