Joan and Macon Brock honored with national philanthropy award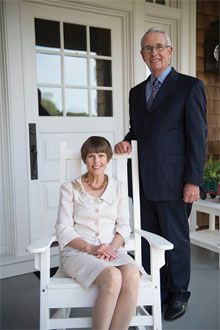 Joan and Macon Brock, whose philanthropic gift to EVMS in 2012 established the M. Foscue Brock Institute for Community and Global Health, have been named the 2015 Outstanding Philanthropist by the Association of Fundraising Professionals (AFP). The award was presented to the couple at AFP's National Philanthropy Day Honors in New York City.
"Joan and Macon Brock's philanthropic impact reaches across the United States and the globe," the AFP announcement said. The couple has given more than $40 million to numerous organizations, including those involved in education, social action and the environment, three of their biggest passions. AFP's Hampton Roads chapter and EVMS nominated the Brocks for the award.
AFP's National Philanthropy Day Honors have highlighted outstanding individuals and organizations in the philanthropic world since 1980. Past recipients include H. Ross Perot, James Michener, Jeff Skoll, Hallmark Cards, Inc., Bank of America, Johnson & Johnson, the Kresge Foundation and the Susan G. Komen Breast Cancer Foundation.
---