Type 1 diabetes:

Research may result in new blood test that will detect predisposition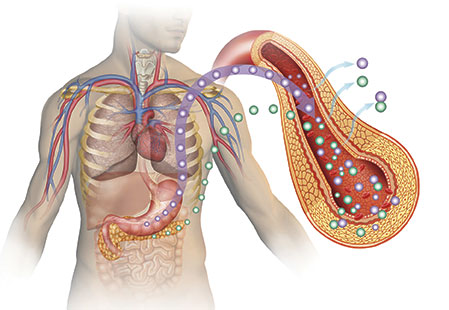 One day, your doctor's office may be able to give you a blood test to learn if you're destined to develop type 1 diabetes.
EVMS scientists, working with colleagues at the University of Florida Gainesville and University of Miami, have found unique biomarkers — distinctive biological clues — that they believe can identify people at risk for developing the disease. The research discovery may lead to a test to determine someone's predisposition to become ill and encourage the development of new treatments to prevent someone from developing diabetes, says Jerry Nadler, MD, the Harry H. Mansbach Chair in Internal Medicine, Vice Dean of Research, Professor and Chair of Internal Medicine and at EVMS.
In type 1 diabetes, the pancreas stops producing insulin, forcing patients to take daily injections of it to stay alive.
"Type 1 diabetes usually is diagnosed in children and young adults," Dr. Nadler says. "Anything we can do to improve health and prevent the onset of diabetes is a monumental step forward." The findings were published in August 2015 in the online journal PloS One.
The discovery follows a comprehensive study of proteins found in the pancreas. The researchers examined tissue samples representing three disease states: organ donors who had autoantibodies associated with type 1 diabetes but no disease, donors with type 1 diabetes and donors with type 2 diabetes.
Anything we can do to improve health and prevent the onset of diabetes is a monumental step forward.
The scientists used mass spectrometry to search for proteins distinctive to diabetes, says Julius Nyalwidhe, PhD, Assistant Professor of Microbiology and Molecular Cell Biology and an expert in the science of proteomics at the Leroy T. Canoles Jr. Cancer Research Center's George L. Wright Center for Biomedical Proteomics.
They found unique patterns of proteins in the tissue from the three disease states. Those patterns were missing in non-disease control tissues, Dr. Nyalwidhe says.
Margaret Morris, PhD, Associate Professor of Internal Medicine, and Tanya Burch, PhD, a postdoctoral fellow in microbiology and molecular cell biology at the Canoles Cancer Research Center, were lead authors on the publication along with Drs. Nadler and Nyalwidhe. The research was funded by the Juvenile Diabetes Research Foundation (JDRF) and the National Institutes of Health.
---