Tough lessons lead 1990 graduate to life of service and support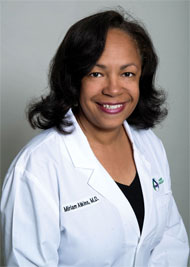 At the end of her first year of medical school, Miriam Atkins, MD (MD '90), stood at a crossroads. The work had been more difficult than she had anticipated — the books, the tests more complex.
She was ready to give up the dream of becoming a doctor.
She decided to quit.
But then, she says, something amazing happened. Her EVMS professors, including then-Dean Robert McCombs, PhD, simply wouldn't let her.
"They told me if I dropped out, I would never know what I could have been or done. I truly believe if I had been at any other school, they would have let me just walk away," Dr. Atkins says. "But at EVMS, when they accept you, they expect you to graduate. They make sure you do what you need to do in order to get that done."
The same couldn't be said for her friends at other medical schools. Many were told at orientations and in classes to look to their left, then to their right, and to expect that only one of them would be there come commencement day, she says. The support of EVMS faculty and their unwavering belief in her ability to excel is why today, Dr. Atkins chooses to support scholarships at her alma mater. She is a longtime member of the 1973 Society, which honors EVMS alumni who commit to giving $2,500 or more per year for a minimum of five years to an EVMS fund of their choice.
"I am where I am because of this school," she says. "I feel that all of us who have been there have an obligation to help the doctors coming behind us."
If her support of EVMS helps even one student make the choice not to give up, Dr. Atkins says, then she is paying forward what was given to her by her EVMS family.
When you are young, you have to see people like you to know that you can do the job and make an impact," she says. "You have to know you are not on this road alone."