A dedicated scientist receives EVMS' Doctor of Humane Letters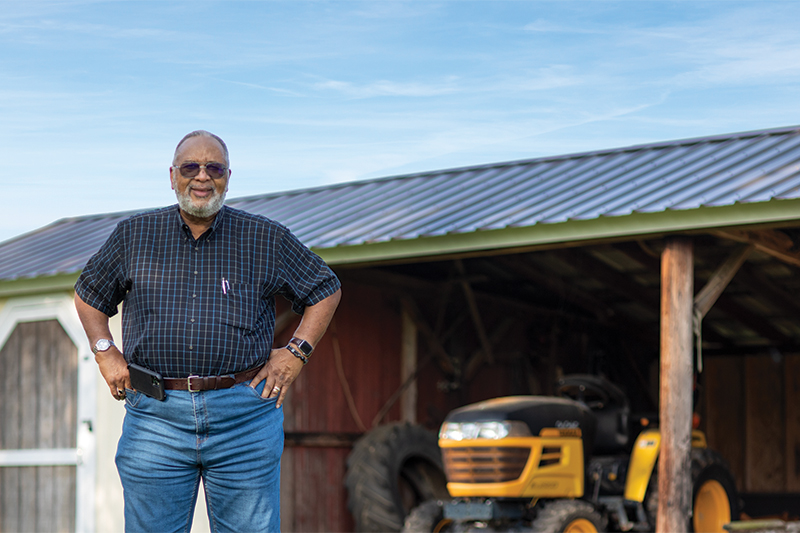 In June 1969, Paul Bibbins Jr., PhD (Biomedical Sciences PhD '86), and his older brother, George, visited their dying grandmother. George was about to deploy to Vietnam, and their grandmother told him: "Don't forget where you come from."
Those words have guided Dr. Bibbins throughout his life and 40-year career as a scientist, scholar, university president, dean, professor and executive who contributed to the scientific literature in reproductive endocrinology and left a mark on higher education.
Now retired and an EVMS alumni volunteer, Dr. Bibbins shared his grandmother's guidance with graduates in May when he received the honorary degree of Doctor of Humane Letters. Dr. Bibbins urged members of the Class of 2021 to remember their own roots and "foremost, don't forget that Eastern Virginia Medical School is your foundation."
He began his speech during the commencement ceremony by announcing: "I should not be standing here today."
His father, Paul, dropped out of school in fourth grade. His mother, Lillie, left school in 10th grade. They worked hard as farm owners on Virginia's Eastern Shore. They also impressed upon Paul, George and sister Bea the value of education and made sure that field work didn't interfere with schoolwork.
"I remember my dad saying, 'We will help you earn your first degree. What you do after that is up to you,'" Dr. Bibbins says in an interview from the century-old farmhouse where he grew up outside Cape Charles and where he lives with his wife, Betty Bibbins, MD (MD '82), a member of the EVMS Board of Visitors. He was born in a second-floor bedroom, which he now uses as an office.
"I remember my dad saying, 'We will help you earn your first degree. What you do after that is up to you,'"

Paul Bibbins Jr., PhD (Biomedical Sciences PhD '86)
Dr. Bibbins and his siblings got those first degrees, plus master's degrees.
After earning bachelor's and master's of science degrees in biology from Virginia State University, he completed his medical technology training at Old Dominion University. "I was going to be a medical technologist for the rest of my life," Dr. Bibbins says. "Then I found out about genetics."
At the time he decided to pursue his PhD, Dr. Bibbins was a pioneering geneticist in Tidewater. "If people needed to have a chromosome study done, they would contact me," he recalls.
Dr. Bibbins was a member of the first class of the Biomedical Sciences PhD program, administrated by EVMS and Old Dominion University. The broad-based program "gave me some direction of what I really was going to do for the rest of my life," he says. "I had the education to do pretty much anything I wanted to do."
Dr. Bibbins says he feels indebted to Gerald Pepe, PhD, in whose lab he worked during his studies. When Dr. Bibbins received his honorary degree, he requested that Dr. Pepe present the traditional hood over his academic dress.
Dr. Pepe, EVMS Foundation Chair in Biomedical Sciences, says he was not surprised that his former student accomplished so much.
"He was very quiet, very aware of the people around him and of how he could be helpful to his colleagues," Dr. Pepe says. "He was a gentleman. I was always impressed with his humility, his ability to think and to ask good questions."
---
Subscribe to receive free copies of EVMS Magazine.
Subscribe