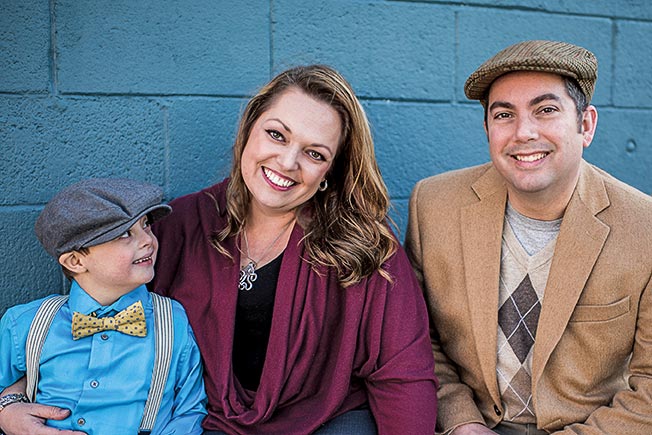 Alumna promotes the healing power of art
Denille Francis, LPC, ATR-BC (ATR '00), is a mental-health services provider and the mother of an 8-year-old boy who has Down syndrome. In both roles, she has witnessed how creating art has the power to heal by strengthening relationships and improving communication.
"Art appears to make it easier for people to find words and begin discussions," says Ms. Francis, who works as clinical director for Family Preservation Services, Virginia Peninsula Region.
She might help children and parents connect, for example, by having them draw pictures, symbols or colorful designs in an art journal that they pass back and forth to spark conversation. Ms. Francis also has used art therapy techniques in staff training to promote self-care, such as having staff members reflect on changes in their breathing rates and muscle tension while they create mandalas or other designs.
Art has helped in her own life, too. After Ms. Francis gave birth to her son, Quinn, art eased the anxiety and stress of having a baby with special needs. She has since made art an important part of the family culture and even uses it as a teaching tool with her son (within the bounds of her profession's rules about working with family members). When Quinn was a toddler, she often did full-body tracings of him to teach parts of the body. Now when he traces his own stuffed animals and toys, Ms. Francis uses the pictures to teach him lessons like recognizing shapes and comparing sizes.
"Communication is very hard for my son, says Ms. Francis, a volunteer Director and interim President for the Down Syndrome Association of Hampton Roads. "I have to believe that giving him options through art and using creativity have enriched his life."
Ms. Francis cites the solid academic and clinical foundation she received in EVMS' Art Therapy Program as vital preparation for her advocacy work on behalf of people with intellectual and developmental disabilities. Her son inspires her clinical work, and she frequently collaborates with EVMS Psychiatry and Behavioral Sciences to promote understanding about Down syndrome among medical students.
"My education at EVMS really solidified my path of lifelong learning," says Ms. Francis. "I want to support the medical professionals coming out of EVMS so that they can be informed about Down syndrome and offer hope and help to families and individuals with the condition. My hope is to destigmatize disabilities and mental health problems by making sure people have current, accurate information and by encouraging compassion."
---