AAMC selects EVMS-led team for project to improve community health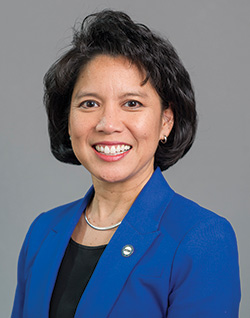 The Association of American Medical Colleges (AAMC) recently selected EVMS as one of only eight U.S. institutions to participate in the three-year workshop series, Building a Systems Approach to Community Health and Health Equity for Academic Medical Centers. The AAMC chose EVMS for the partnership-based project from about 40 applications.
The EVMS team is led by Cynthia Romero, MD (MD '93), an EVMS-Sentara Endowed Chair for Academic Leadership Advancement, family physician and Director of the M. Foscue Brock Institute for Community and Global Health at EVMS.
"Our goal," Dr. Romero says, "is to allow EVMS to work strategically with our community partners to use education, research and clinical care to transform the systems where our patients live, learn, work and play to prioritize health and wellness.
Other team members include:
Mekbib Gemeda, Vice President of Diversity and Inclusion at EVMS
Kaethe Ferguson, EdD, MS, Toy Savage Endowed Professor in Pediatrics, Associate Professor of Pediatrics and Director of Community Health and Research, a division of EVMS Pediatrics
Elsie Harold Lans, EdD, Senior Director of Student Support Services for Norfolk Public Schools
Demetria Lindsay, MD, Director of the Norfolk Department of Public Health
Grace Hines, MBA, Corporate Vice President for System Integration for Sentara Healthcare
---