A Black & White Issue
What's behind the lack of black males in medicine and what are we doing about it?
Looking out over a sea of medical students, you can't ignore that their coats aren't the only things that are white. Overwhelmingly, so are their faces.
By most measures, Gerry Ovide is a typical medical student. Inspired to pursue medicine following the death of a loved one, he is now a third-year medical student busy rotating through clinical departments, preparing for his medical licensure exam and working hard to realize his dream of becoming a physician.
But in the classroom and in his chosen profession, Mr. Ovide stands out — he is a black man.
"As a kid, I wanted to become a basketball player," he says. "That is a sentiment that I feel many African-American children have. They see successful black male athletes, musicians and other entertainers, and they aspire to be like them."
Often young black males never consider medicine as a career, in part, Mr. Ovide says, because of the scarcity of role models. "How often do they see black physicians?"
The national statistics are stark.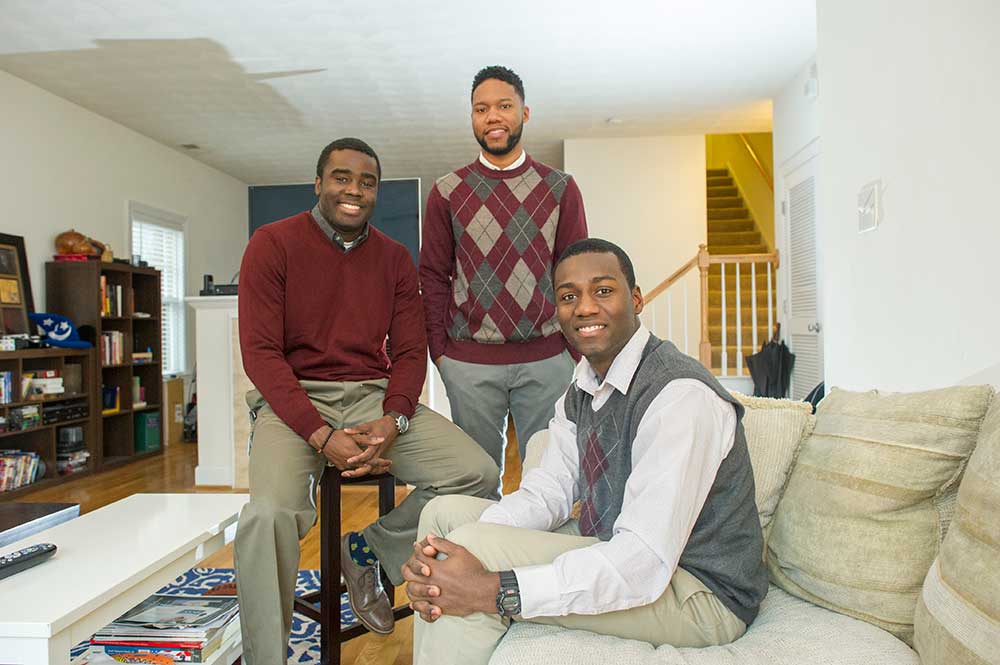 Just ask Marcus Martin, MD. When he graduated from EVMS in 1976, he was the only African-American in the school's inaugural MD class. He saw himself at the forefront of what he expected would be a growing supply of African-American physicians. Forty years later, that number is virtually unchanged.
"I was startled," says Dr. Martin, Vice President and Chief Officer for Diversity and Inclusion at the University of Virginia, recalling when he first saw the totals in the 2015 report "Altering the Course: Black Males in Medicine," published by the Association of American Medical Colleges (AAMC).
In 1978, 542 black males entered medical schools across the country. Over the intervening 38 years, that number increased by only 39 students. In 2016, the total number of black males nationwide was 581 out of 21,030 students.
This glaring lack of black male students stands out in a side-by-side comparison of males and female applicants. In 2014, two black females applied for every one black male applicant, according to the AAMC report. In every other ethnic group, male applicants dominate.
This dearth of black male applicants becomes even more critical with population growth and shifting patient demographics. By 2025, the AAMC predicts a shortage of as many as 90,000 physicians of all ethnicities.
Devon Preston, MD (MD '13, Internal Medicine Residency '16), is a black physician now completing a fellowship in asthma and immunology at the University of Virginia. As a youth, he saw family members shun medical care because no black physicians practiced in their rural southwest Virginia community.
"Having [a doctor] who looks like you helps you develop a level of trust," Dr. Preston says.
The lack of black male physicians impacts the well-being of communities nationwide and exacerbates the health inequities that persist in the African-American population, according to Lawrence Sanders Jr., MD, President of the National Medical Association.
"The downward trend in the number of African-American men entering medical school threatens our ability to achieve equitable access across all American neighborhoods."
"As a nation, our capacity to improve health for all Americans depends on our commitment to ensuring access to high-quality services in every neighborhood," Dr. Sanders wrote in the AAMC report. "The downward trend in the number of African-American men entering medical school threatens our ability to achieve equitable access across all American neighborhoods."
Dr. Martin, also a member of the EVMS Board of Visitors, co-edited a book on the importance of a diverse workforce and cultural competency. In the preface, the writers agree that excellence in the medical workforce is not possible without diversity.
"A growing body of research shows that a diverse workforce is more capable of relating to patients, detecting and addressing health disparities, and overcoming the challenges that face healthcare," they write. "Diversity accelerates our delivery of quality care to all people."
There is no shortage of educated black males.
During the last 40 years as black male enrollment in medical schools remained virtually unchanged nationwide, the number of black males with at least a bachelor's degree more than tripled, according to the U.S. Census Bureau. In fact, more black males are in college today than ever before.
But when the average medical student graduates with $180,000 in debt, it's no surprise that many youth who might otherwise consider medicine instead choose the less expensive option. "Four years to get an education and get a job," Dr. Martin says. "I think that's key."
Dr. Martin attended EVMS with help from a National Health Corps Scholarship. Today, similar federal resources are drying up.
"Many of the national programs that support medical students have seen their funding fall over the years," says Mekbib Gemeda, Vice President of Diversity and Inclusion at EVMS and President of the Virginia Association of Diversity Officers in Higher Education.
To make matters worse, the persistent economic inequalities for many African-Americans can bring unintended academic challenges. Studies indicate that a disproportionate number of young black men live in underserved communities where they may attend underperforming public schools. In that setting, they face a greater likelihood of missing out on test preparation and high-quality advising that can help steer them toward medicine as a career.
The AAMC report demonstrates that public perceptions and negative images of black men also may adversely influence their educational and career decisions.
"Interviewees explained that the combination of frequent negative media portrayals and lower expectations for males, specifically black young boys and men, directly and indirectly perpetuates stereotypes and systemic biases," cites the AAMC report.
Public school educators understand that an early focus on career opportunities prepares students for academically demanding professions like medicine. Virginia Beach City Public Schools host an annual African American Male Summit, which focuses in part on college readiness. In Virginia Beach and other city schools across the region, teachers and guidance counselors have career conversations with youngsters as early as third grade.
"We think that when you start showing them what can be done at a younger age, you're really giving them more opportunities in life," says James Pohl, PhD, Executive Director of Secondary Teaching and Learning in Virginia Beach.
Thomas Kimble, MD, Associate Dean for Admissions and Enrollment at EVMS, didn't have that opportunity at such a young age, but he did have formative experiences as a teen.
As a high-school sophomore and junior, he attended summer-long programs at the University of North Carolina and Duke University. Both programs targeted minority students.
"What was fortunate for me is somebody made me aware of these opportunities," Dr. Kimble says. "Because of those experiences, I decided I wanted to go into medicine."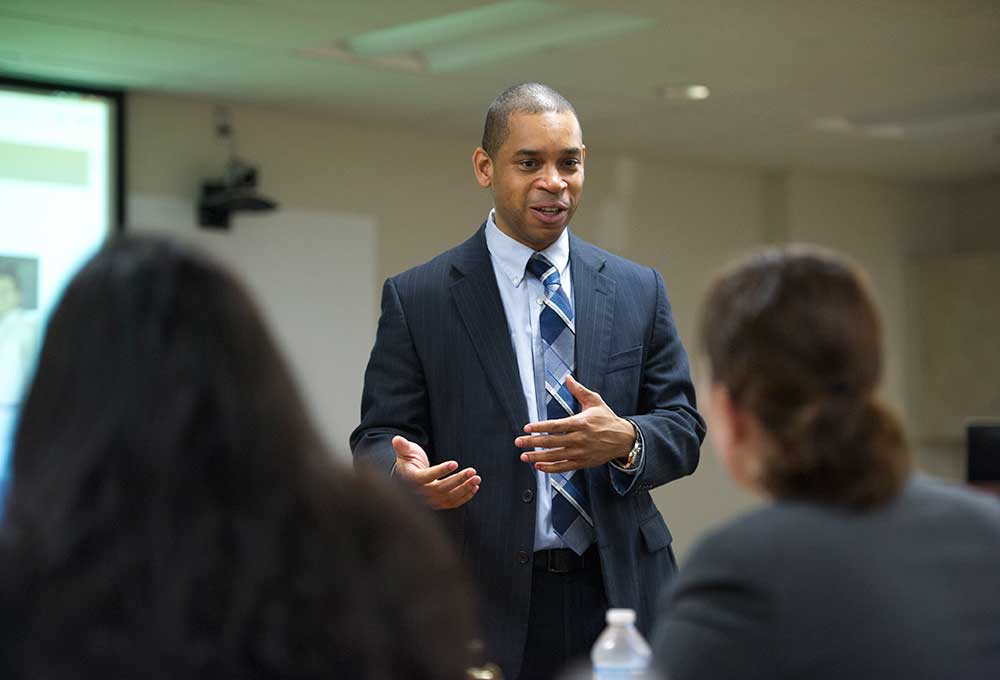 In his new capacity overseeing MD admissions at EVMS, Dr. Kimble is eager to return the favor. For instance, EVMS is looking to partner with local high schools and undergraduate institutions to develop a "pyramid of mentoring."
"We'll have the undergraduates mentoring the high school students, our medical students mentoring the undergraduates and our faculty mentoring the medical students and overseeing everything," he says.
EVMS also is revising its admissions criteria to include a more holistic approach for evaluating potential students.
"Sometimes," Dr. Kimble says, "people from disadvantaged backgrounds may not have done well on standardized exams or have the highest GPA, but we see other things that point us to their doing well — such as exposure to medicine or overcoming obstacles in their lives."
EVMS is working to strengthen its BS/MD program, a relationship with several undergraduate institutions where students can earn guaranteed acceptance into EVMS as a college sophomore. Dr. Kimble's vision is to create on-campus experiences for these future medical students while they are still completing college.
A pre-matriculation program is also in the works, so that students arrive at EVMS before classes begin to help them acclimate to the campus. Because of the shortage of black males, feelings of isolation are a real concern for students, Dr. Kimble says.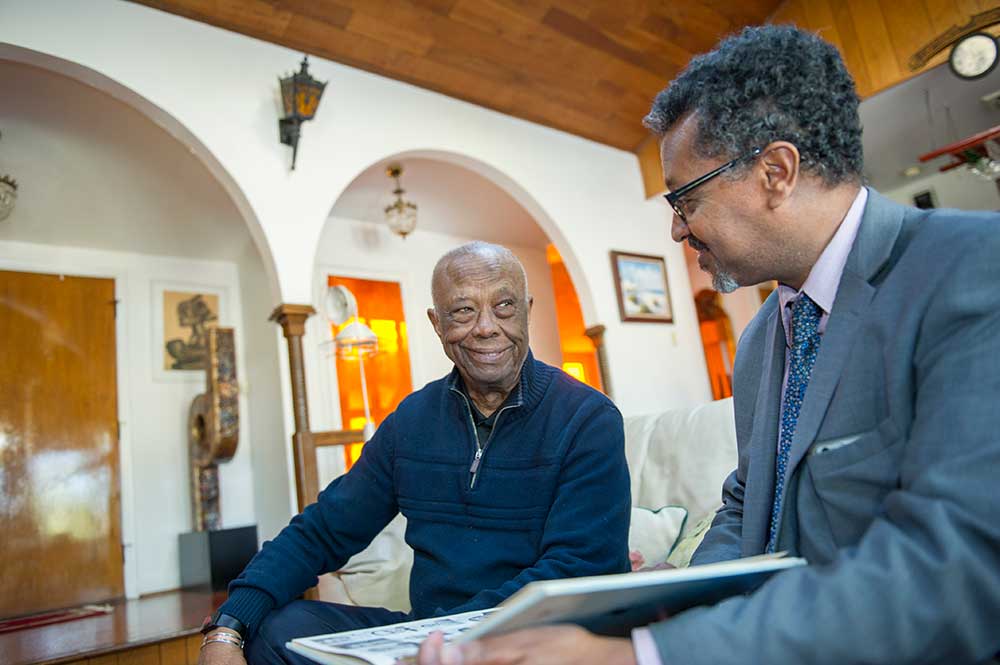 Anton Quist, MD, MPH (MD '13), can relate. He vividly recalls his reaction when he arrived at medical school and realized he had few black male colleagues.
"I was very disappointed," Dr. Quist says.
Mr. Ovide, Mr. Williams and fellow student Joshua Ononuju chose to room together, in part, to battle the solitude.
It's not the fault of the youths. It's our fault," says James Willie, MD, a retired obstetrician. "We have to bring them in."
For Dr. Willie, the key to attracting more black males to medicine is encouragement from a respected adult.
Dr. Willie found his motivation from a black physician in his hometown of Smithfield, N.C. "I sort of idolized him," says Dr. Willie, a founding member of the EVMS faculty who became the first board-certified black obstetrician in Virginia. "He also took a liking to me, and he became a mentor to me."
Others had similar experiences.
Until 10th grade, Jelani Williams "had serious intentions" of becoming an architect. Then, his honors biology teacher encouraged him to consider a new path.
"He strongly urged me to look into medicine. He took an interest in my potential and challenged me to aim higher and dream bigger," recalls Mr. Williams, now a third-year medical student at EVMS. "He became an early mentor and motivator, and had it not been for him, I might not have chosen medicine."
For L.D. Britt, MD, MPH, his early influence was a highly respected surgeon in his community. Since then, the Harvard-trained surgeon has gone on to great things, including recently earning election to the National Academy of Medicine, the first faculty member from EVMS to do so.
"Most people chose their profession because someone influenced them," says Dr. Britt, the Edward J. Brickhouse Chair in Surgery, Henry Ford Professor of Surgery and Professor and Chair of Surgery. "The earlier you have that influence, the more you prepare your foundation and the greater your chance of being successful."
"The earlier you have that influence, the more you prepare your foundation and the greater your chance of being successful."
Dr. Quist is doing his part to ensure that future minority students don't experience the disappointment he faced in medical school. Today, he is a ready sounding board for young men at Fort Jackson Army Base in Columbia, S.C., where he is Chief of Preventive Medicine.
"Whenever I am asked to counsel students," he says, "I try to give them time and explain to them what the medical field entails and try to gauge their interest and support them in any way I can. To me, it's a special opportunity when someone asks for advice."
EVMS students also have taken it upon themselves to make a difference. Many volunteer with the school's medical-adventures program in which they interact with an ethnically mixed group of high school students interested in medicine.
Whether it's more pipeline programs, better outreach from medical schools or face-to-face encouragement of youngsters, the nation needs to do whatever it takes to educate more black physicians, says Derwin Gray, MD, a member of the EVMS Board of Visitors and father of a 2016 EVMS graduate.
"Not only is it good to have diversity in medical education," he says, "it's the right thing to do."
For a handful of young black males in Philadelphia, their career aspirations recently have grown beyond athletes, musicians and entertainers. They now look up to and admire their friend: third-year EVMS medical student Gerry Ovide.
In between breaks in his studies, Mr. Ovide sees his friends when he returns to his hometown and attends his childhood church. During those visits, he has come to understand his own transformation into the role model that so many impressionable young black males never get to see.
"When you realize that you can have a greater impact just by being present," he says, "then you start feeling a little bit of the weight of responsibility to go back and help those who may not have had the same opportunities."
How EVMS Is Helping