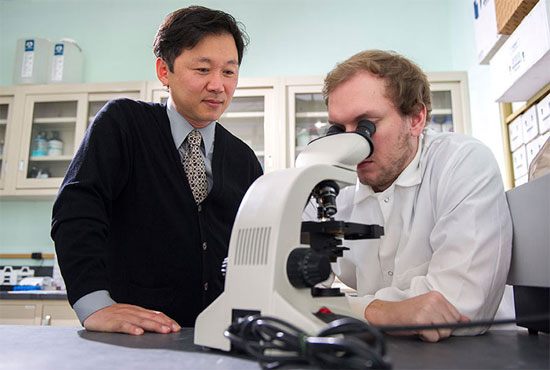 EVMS researcher receives $3.2 million grant for HIV cure study
Woong-Ki Kim, PhD, Assistant Professor of Microbiology and Molecular Cell Biology, has received a $3.2 million award from the National Institutes of Health to research a cure for HIV.
Thanks to highly active antiretroviral therapy (HAART), HIV patients now live longer, but many continue to suffer from cognitive impairment. According to Dr. Kim, that's because HIV hides deep inside tissue, including the brain. His research identified a cell type called macrophages as a new HIV treatment target. This grant will fund his study to evaluate the effect of macrophage-depleting drugs on viral reservoirs.
"Our long-term goal is to find ways to successfully eradicate HIV from the body," Dr. Kim says. "Our study could lead to the first right step in new treatments for HIV-infected patients on HAART."
This is the third NIH grant Dr. Kim has received this year to utilize similar strategies. His additional grants were awarded to study pediatric AIDS and long-term opioid use in HIV-infected patients.
"Dr. Kim has been a leader in research during his eight years at EVMS, and we are very proud of his achievements," says Jerry Nadler, MD, the Harry H. Mansbach Chair in Internal Medicine, Vice Dean of Research and Professor and Chair of Internal Medicine. "Research is essential for our mission as a medical school, not only to advance basic knowledge, but also to achieve better quality of clinical services."