AMA chooses EVMS to help create the medical school of the future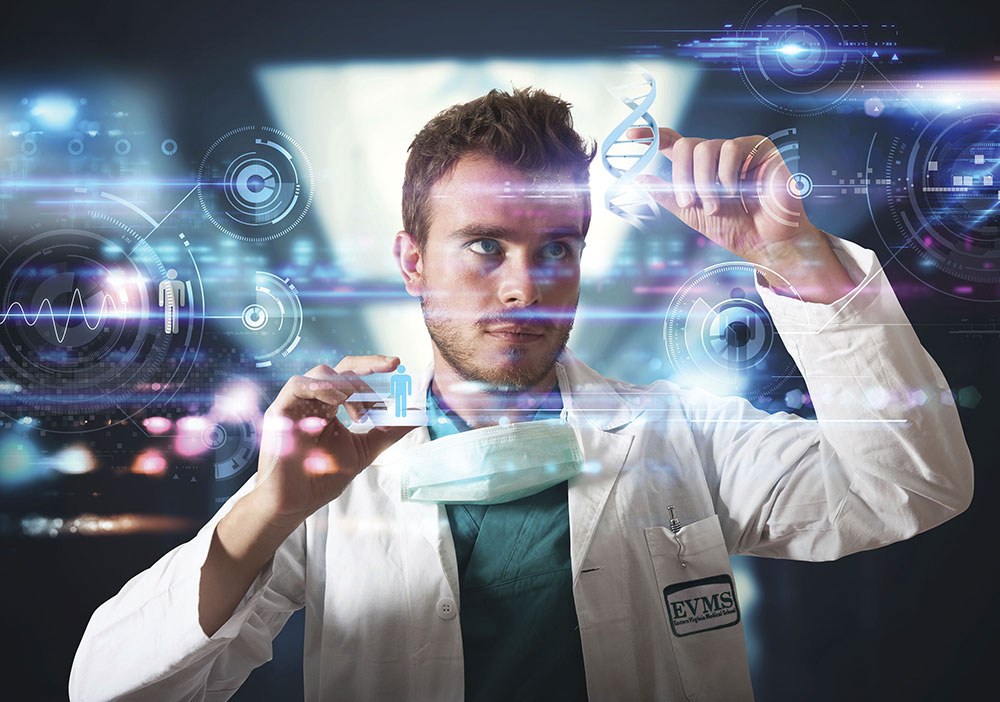 EVMS is taking a leading role in helping to shape the future of medical education. The American Medical Association (AMA) recently tapped EVMS to join a nationwide consortium working to bridge the gaps that exist between how medical students are trained and how health care is delivered.
EVMS is the only medical school in Virginia and one of just 20 schools nationwide selected to take part in the AMA's Accelerating Change in Medical Education Consortium. A national advisory panel chose the latest participants from among 170 eligible medical schools. EVMS was selected for its CareForward Curriculum. That curriculum, which will be implemented in the fall of 2016, focuses on improving the care of patients and families and also integrates student-wellness as a guiding principal. CareForward incorporates the use of a virtual community of culturally diverse families and associated electronic health records into student coursework from the very first year of medical school.
"The virtual families bring clinical scenarios to life and highlight a patient- and family-centered, cost-conscious care approach," says Senthil Rajasekaran, MD, Assistant Dean for Academic Affairs, who was the lead architect of the curriculum. "The virtual families also focus attention on the unique needs of the elderly and those with multiple chronic conditions, as well as a host of social determinants of health."
Richard Homan, MD, President and Provost of EVMS, Dean of the School of Medicine, says this new approach to medical education is a natural fit for EVMS and its community-focused vision.
"The CareForward curriculum will help our students learn to see the patient's viewpoint. This course of study will give them experience working in inter-professional teams and encourage them to improve patient-centered outcomes," he says.
Each medical school added to the consortium will receive $75,000.
According to Christine Matson, MD, the Glenn R. Mitchell Chair in Generalist Medicine and Chair and Professor of Family and Community Medicine, crafted the AMA proposal. In the proposal she detailed how EVMS will use the grant money to build on the work of two other participants.
"We have a unique opportunity to partner with all the other consortium school members and, specifically, to work with Mayo Medical School to create physician leadership in positive change and with Indiana University to build upon their experience in creating a virtual health care system and teaching EHR," she says.
The other new consortium partners include Emory University, Harvard, Morehouse, Rutgers and the University of North Carolina. The new schools will build upon projects that were created by the consortium's founding 11 member schools.
The now 31-school consortium will support training for an estimated 18,000 medical students who will one day care for 31 million patients each year.
"Our goal throughout this initiative has been to spread the robust work being done by our consortium to accelerate systemic change throughout medical education," said AMA CEO James L. Madara, MD.
By tripling the number of participating schools, the consortium hopes to more quickly disseminate innovative curriculum ideas to even more schools.
"Together, the 31 schools will collectively work to quickly identify and widely share the best models for educational change to ensure future physicians are prepared for a lifetime of learning, to lead a team of professionals in delivering care and to explore innovative ways to care for patients, populations and communities in the evolving health care system," says Susan Skochelak, MD, MPH, AMA Group Vice President for Medical Education.
"By working together, we believe that during the next several years this effort will produce physicians who are not just skilled clinicians, but system-based thinkers, change agents, technology champions and inter-professional team players."