Psoriasis specialist takes the helm of Dermatology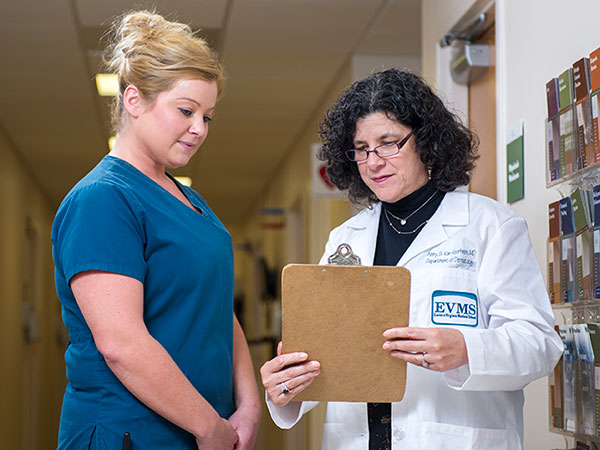 Abby Van Voorhees, MD, believes learning about skin isn't just for future dermatologists — it should be an important part of the educational process for all medical students.
"The skin can be a window into what is going on in the rest of the body," she says. "That's why I encourage all students to take full advantage of dermatology courses. It will benefit them in the long run — no matter their specialty."
That approach is one of the many reasons Dr. Van Voorhees was chosen as the new chair of EVMS Dermatology.
"In addition to her three decades of expertise in academic dermatology, Dr. Van Voorhees is an international leader in the field of psoriasis, an outstanding clinician, academic leader and administrator," says Richard Homan, MD, President and Provost of EVMS and Dean of the School of Medicine. "We are fortunate to have someone of her caliber to oversee this department and contribute to the academic reputation of EVMS."
She was recruited from the University of Pennsylvania where she was Associate Professor of Dermatology and Director of its Psoriasis and Phototherapy Treatment Center.
Throughout her career, Dr. Van Voorhees has been active in clinical research in dermatology, particularly issues related to the treatment of psoriasis — the country's most common autoimmune disease, affecting up to 7.5 million Americans.
Dr. Van Voorhees is the first female chair of the medical board of the National Psoriasis Foundation, the world's largest nonprofit organization serving people with psoriasis and psoriatic arthritis. She also is medical editor of Dermatology World, the official magazine of the American Academy of Dermatology.
Dr. Van Voorhees holds a medical degree from Yale University and received her bachelor's degree in biology from Brown University.
As for what drew her to EVMS, she says the community focus appealed to her.
"The business of medicine sometimes can make us forget that we are here to serve patients," she says. "What better way to serve your community than getting involved and making a difference, and that's exactly what EVMS does."