Board member runs first half-marathon to raise money for EVMS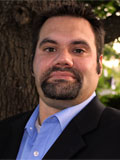 Michael Davis is the first person to admit he's not a runner. But when the opportunity to raise money for EVMS presented itself, Mr. Davis laced up his running shoes at the 2015 Humana Rock 'n' Roll Virginia Beach Half Marathon.
"Raising money for a great cause was the only way to get me into a half-marathon," he says.
A Hampton Roads native, Mr. Davis has served as a member of the EVMS Philanthropic Advisory Board since its formation in 2013. The board is made up of 18 members who serve as EVMS ambassadors in the region. He says it's a rewarding way to support his community.
Mr. Davis is an estimator for Cohen Homes, builders of single-family custom homes. With the support of his wife, he began training with fellow Team EVMS members months before the Labor Day weekend race. Team coaches Jim and Krista White of Jim White Fitness & Nutrition Studios led group "fun runs" at the oceanfront starting 12 weeks before the race.
"We began with two- to three-mile runs and worked our way up to 13 miles," he recalls. The Whites also developed customized training and nutritional plans for team members and helped them set personal race goals. Mr. Davis exceeded one of his personal goals — crossing the finish line with more than $2,000 in donations for the EVMS Fund.