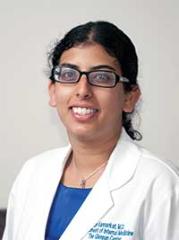 Mily Kannarkat, MD
‌Mily Kannarkat, MD, is an Associate Professor at the Glennan Center for Geriatrics and Gerontology at EVMS. After graduating from medical school at EVMS, Dr. Kannarkat did her internal medicine residency at the University of North Carolina at Chapel Hill, where she developed two passions: teaching and clinical care of the elderly. She completed a geriatrics fellowship at the Johns Hopkins University School of Medicine and took on an additional year of Health Resources and Services Administration-funded advanced fellowship training to obtain key clinician educator skills. Upon returning to EVMS in 2011, she was named the Clerkship Director for Internal Medicine. As the Clerkship Director and a clinician-educator, she has developed and implemented a simulation curriculum, enhanced evaluation through graded and non-graded assessments and modified didactics to an active learning format.
Models of assessment: Using the RIME method in clerkships
The RIME framework provides terminology for describing the professional growth of medical students. The framework was developed by Dr. Louis Pangaro, an internist and medical education expert at the Uniformed Services University of the Health Sciences. It describes the growth in knowledge, skills and attitudes as students progress through four stages with each stage requiring a higher degree of sophistication and confidence. It can be used by students to monitor their progress and by residents and faculty to monitor student progress and provide feedback.
At the end of the professional development byte you will be able to:
Explain what the RIME framework is
Understand the benefits of the framework
Apply the RIME framework to the medical student experience
Watch this professional development byte:
Resources
Rodriguez R., Pangaro L., Mapping the ACGME Competencies to the RIME Framework, Academic Medicine, 87 (12), 1781
Pangaro, L.N. (1999) Evaluating Professional Growth: A New Vocabulary and Other Innovations for Improving the Descriptive Evaluation of Students, Acad. Med., (Nov) 74:1203-1207
Sepdham D., Manjula J., Hofmann L., Dobbie A., (2007) Using the RIME Model for Learner Assessment and Feedback. Fam Med; 39 (3):161-3
Dr. Kannarkat has disclosed she has no relevant financial relationships.