Drug policies, including youth access to tobacco laws, cigarette taxes, smoke-free air policies, alcohol policy and medical marijuana laws, can have an impact on a variety of health, social and economic outcomes, especially on traditionally marginalized or otherwise vulnerable populations. A number of CHR programs examine and/or effect policy change.
Faculty leads: Andrew Plunk, PhD MPH; Amy Paulson, MPH; Patti Kiger, MEd; Paul Harrell, PhD
Marijuana decriminalization and legalization policy changes may have affected race-based disparities in marijuana possession arrests and marijuana use. A CHR study is examining the impact of different features of marijuana policy so that we can make specific policy recommendations based on their real-world impact on youth.
Faculty lead: Andrew Plunk, PhD, MPH
Substance-use laboratory space at the Community Health and Research division allows for the real-time collection of data related to smoking and the use of e-cigarettes (i.e., "vaping") to better understand the health impact of alternative tobacco use and provide recommendations for policy.
Faculty lead: Paul Harrell, PhD
Using a community engaged-research process, researchers at the Community Health and Research (CHR) division are addressing significant gaps in our understanding of smoke-free housing policy and are providing important guidance on how we can better protect children and other non-smokers in public housing from significant health risks.
Faculty lead: Andrew Plunk, PhD
Healthy Alternatives for Little Ones (HALO) is an evidence-based, health education and substance abuse prevention program for ages 3-6 being implemented in 48 Hampton Roads childcare, preschool and kindergarten classrooms. Consortium for Infant and Child Health (CINCH) facilitates teacher training and HALO lessons, provides educational materials and conducts tobacco policy/environmental assessments for community action plan development.
Faculty lead: Sara Rothenberg, MPH
CHR has led multiple community-engaged projects to understand barriers and improve indoor air quality for children with asthma in low-income housing. Caregivers are given supplies and receive education on asthma, the effects of smoking and minimizing exposure to prevent allergic reactions.
Faculty lead: Andrew Plunk, MPH
Since 2012, through the Tobacco Use Control Project, the CINCH has consulted with local cities to increase taxes on tobacco products, with revenues used for schools and improving public health.
Faculty lead: Amy Paulson, MPH
CINCH also trains teachers, school nurses and administrators using the American Lung Association's Asthma 101 booklet and prepares local school nurses through the Asthma and Allergy School Nurse Expert Program to take the National Asthma Certification Exam.
Faculty lead: Amy Paulson, MPH
Another issue that impacts children of all socioeconomic levels is exposure to cigarette smoke while in cars. The Smoke-Free Ride initiative is a public education program linked to a form where smokers pledge not to smoke in vehicles.
Faculty lead: Amy Paulson, MPH
In an effort to curb vaping among youth, the Community Health and Research (CHR) division conducted research examining teen e‑cigarette use in order to inform the development of effective countermeasures. In partnership with local teens, an e-cigarette risk communication campaign, was developed and found to be effective in increasing knowledge, changing risk perceptions and reducing intentions to vape.
Faculty lead: Kelli England
CHR is using a community-engaged research process to determine:
What information is currently being used in community settings related to e-cigarette education for teens
If the information is evidence-based
If the information is engaging and effective with teens
The goal is to work with stakeholders in the community to create, pilot and disseminate a guiding framework for embedding more effective e-cigarette education into multiple community settings.
Faculty lead: Kelli England, PhD
Using qualitative and quantitative methods, researchers in the division are developing e‑cigarette measures, including an expectancy measure for e-cigarettes. Expectancies are associated with initiation and maintenance of substances. This research involves focus groups, qualitative analysis, input from an expert panel, survey administration and analysis using Confirmatory Factor Analysis and Item Response Theory. Populations studied include teenagers and college students.
Faculty lead: Paul Harrell, PhD
Motor vehicle crashes are the leading cause of death for children over age 5. Our work in this area blends psychological, public health and risk communication principles to devise novel approaches to motivate behavior change among hard-to-change populations.
We have worked with national and state agencies to examine various messaging approaches in child passenger safety, to provide recommendations and workshops for improved messaging to the public and to provide continuing education for professionals.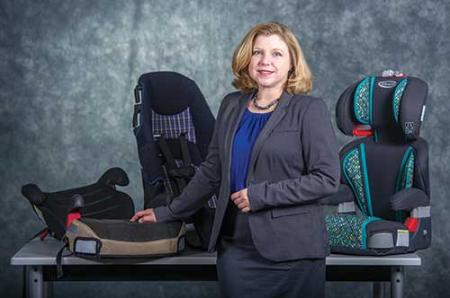 Faculty lead: Kelli England, PhD
In response to the low booster-seat use, we studied the use of health risk messages in booster seat campaigns. The resulting Boost 'em in the Back Seat video conveys the power of crash forces to motivate parents to use booster seats and back seats for older children. The research-supported video and its companion website has had more than 22 million views in only its first year of release.
Faculty lead: Kelli England, PhD
Car Safety Now uses a social marketing approach and houses research-supported programs in free downloadable toolkits. Our online and community-engaged efforts target not only parents, but also teachers and health professionals who may use these programs in their work with families. Car Safety Now encompasses the Boost 'em in the Back Seat program as well as our other empirically supported school-based programs for tweens (Make it Click) and teens (In Control).
Faculty lead: Kelli Englandl, PhD
Our division has a history of implementing and evaluating young driver risk-reduction training programs in military, school and courtroom settings, with a particular focus on applying alcohol harm-reduction strategies to DUI prevention.
Faculty lead: Kelli England, PhD
Eastern Shore Healthy Communities (ESHC) addresses obesity and resulting chronic diseases through a multi-sector leadership team focused on policy, systems and environmental change. This network addresses obesity through a "livable communities" approach that emphasizes the importance of place and a guiding principle that health begins in the community. ESHC initiatives include student BMI data collection, a youth leadership academy and healthy restaurant initiatives.
Faculty lead: Patti Kiger, MEd
The Community Health and Research division is developing interventions to prevent diabetes in Portsmouth with initial focus on high-risk groups, including food insecure populations and food bank clients. One focus area is community engagement in the Cradock neighborhood, a diabetes hot spot. A community needs assessment, including Photovoice methods, identifies Cradock resident perceptions of healthy lifestyle assets and barriers. This analysis will be used to develop a list of priority needs for interventions, programs and economic development.
Faculty lead: Amy Paulson, MPH
Healthy Kids builds upon prior initiatives, expanding to an early childhood nutrition focus, addressing a need for breastfeeding support for working moms and promoting optimal nutrition from infancy through preschool. The initiative will work with early care and education centers (ECEs) to encourage healthy food and beverage and physical activity policies. Healthy Kids also engages regional ECEs to complete nutrition/physical activity policy and environmental assessments and implement policy changes to promote complete childhood nutrition in early care settings. A multimedia campaign will promote the Healthy Kids Initiative and its activities.
Faculty lead: Sara Rothenberg, MPH
There has been an upsurge in abuse of synthetic (club) drugs in China, the U.S. and elsewhere internationally. Unlike heroin and opium, synthetic drugs often stimulate sexual activities and contribute to unsafe sexual practices and STIs. In an NIH-funded community-based initiative led by Old Dominion University, researchers are studying causes and public health consequences of synthetic drug abuse. The objectives are to:
Develop a model of causes and health consequences of synthetic drug abuse
Recruit drug users and non-users to test the model
Identify effective interventions
The overarching hypotheses are first, that differences in intrapersonal and interpersonal risk/protective factors, interacting with community contextual characteristics, explain why some people use drugs and/or have risky sex while others do not; and second, that neuro-behavioral effects of synthetic drugs (on state/mood), interacting with unique synthetic drug-use settings, such as entertainment venues or group gatherings, render users vulnerable to unsafe sex and STIs.
Faculty lead: Tracy Fu, PhD
With Hampton Roads having one of the highest rates of SIDS in the country, the Community Health and Research division is exploring why this is true and what can be done about it. Unsafe sleep practices, such as placing babies on their stomachs, having items in cribs and co-sleeping, contribute to infant suffocation. A qualitative study is asking caregivers and home visitation staff about safe sleep knowledge, experiences and behaviors.
Faculty lead: Tracy Fu, PhD
The Consortium for Infant and Child Health (CINCH) promotes breastfeeding in two ways. Business Case for Breastfeeding builds on a community implementation model that provides assistance to implement employer-based policy and environmental changes supporting lactation in the workplace. To date, 20 workplaces have made changes, potentially impacting more than 10,000 female employees. Breastfeeding Welcome Here helps create safe, supportive breastfeeding environments to decrease stigma and shift social norms for mothers nursing in public places; CINCH works with communities to facilitate compliance with new state legislation.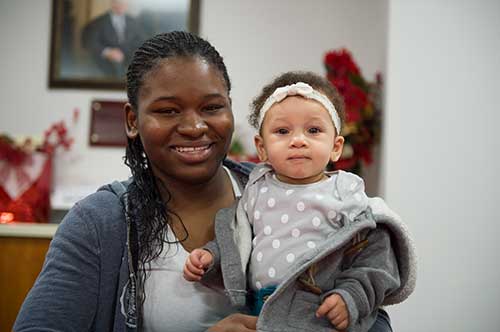 Faculty lead: Amy Paulson, MPH
African-Americans and teen mothers are particularly at risk for poor birth outcomes. The Loving Steps program supports community health workers and care coordination through home visits, providing parent education and helping connect moms with community services. Moms are screened for medical, nutritional, social and economic risks and work with staff to develop a care plan. Mentoring support is provided to mothers until the baby is 2 years old.
Faculty lead: Amy Paulson, MPH
Using national and state birth outcomes datasets, division faculty, in partnership with EVMS Master of Public Health practicum students, examine such issues as racial disparities in safe sleep practices and breastfeeding, maternal smoking, relationships between knowledge of maternal-child health services and birth outcomes, association between pregnancy intention and breastfeeding, and birth outcomes in teen mothers across the U.S.
Faculty lead: Tracy Fu, PhD
Minus 9 to 5 is a network of cross-sector stakeholders from education, medical, childcare, business, nonprofit, philanthropic and local and state government sectors. Together, we are committed to creating an impact for children and their families from conception to kindergarten. Ensuring that each family in Hampton Roads will be equipped and supported to raise children who are healthy, thriving and ready to learn is our vision. By aligning and coordinating the many programs and services that serve young children and their families, Minus 9 to 5 unites a variety of community stakeholders dedicated to improving the lives of our region's youngest residents and their families.
Faculty lead: Jane Elyce Glasgow, PhD
Through the Community Health and Research division's work, we focus on reducing health disparities experienced across populations. We recognize that much of our health is determined not just by lifestyle choices, but by our environments, including where we live, learn, work and play.
An EVMS training initiative, called the Transformative Education Advancing Community Health (TEACH) project, is preparing healthcare providers to practice and lead transformed healthcare systems, improving access, quality of care and cost effectiveness for our patients by developing an Accountable Care Organization (ACO) including:
Patient-centered medical homes
Quality metrics and improvement
Database and risk-stratified care management
The use of technology to cut healthcare costs
Our initial focus is on four primary care practices providing safety net care for the Hampton Roads residents suffering the greatest health disparities. Patients of these practices are predominantly from racial and ethnic minorities with family incomes 200% below the poverty level. Medical, nursing, dental hygiene, counseling, public health and physician assistant students are training together in interdisciplinary teams that will be the wave of the future.
Faculty leads: Kate Ferguson, EdD, MS; Bruce Britton, MD