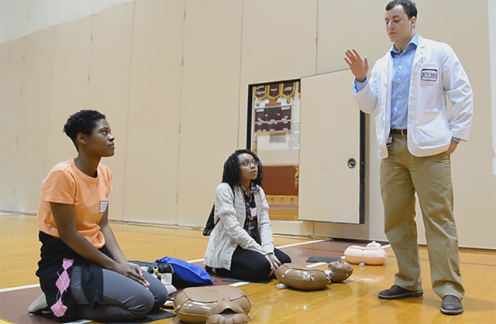 When our medical students learned that the city of Norfolk had a 16 percent rate of return for spontaneous circulation after cardiac arrest – well below the national average of 34 percent – they took action. They gained certifications as bystander CPR instructors and created a team of community stakeholders to conduct trainings in high-risk communities.
Our students ride along with Norfolk Fire and Rescue to see firsthand some of the challenges first responders face. They perform needs-assessment surveys and use GIS mapping to determine training areas of greatest priority.
The enrolled students have trained more than 370 community members to date. We partner with Norfolk Emergency Services, Virginia Beach Emergency Medical Services, and the Compress & Shock Foundation to provide free, 1- hour classes at various Hampton Roads locations.
Why Bystander CPR Is Important
According to the American Heart Association, only 46% of people who suffer an out of hospital cardiac arrest receive CPR before an ambulance arrives. Immediate CPR from bystanders can double or triple the survival rate of an out of hospital cardiac arrest victim. Furthermore, 70 percent of out of hospital cardiac arrests occur in homes/residences. Bystander CPR is easy to learn and can have a profound impact on someone's life, including the ones you care about.
Resources

Click here to find out more about Bystander CPR. Sign up for a free bystander CPR class through the Compress & Shock Foundation.
Contact Us
Contact Community-Engaged Learning or faculty lead Dr. Barry Knapp for any additional questions.