Learn more about the program.
Meet with a program representative.
The MHPE Scholarship Certificate prepares medical and health professionals with new skills to build competence in educational scholarship. It enables learners with skills in designing educational scholarship projects including research and program evaluation, critiquing published literature for work-place application and decision-making, and presenting data in a meaningful way for stakeholders.
This certificate is for anyone interested in enhancing their educational scholarship skills. Whether you currently:
Are conducting or plan to conduct qualitative, quantitative or mixed methods educational studies
Are seeking ways to broaden your approach to educational scholarship
Wish to better support those who are conducting educational scholarship
Course Requirements
Course Descriptions
Educational Scholarship Methods
This course provides the knowledge necessary to understand the purposes and processes of research using an expanded definition of scholarship that goes beyond the scholarship of discovery (research) to include the scholarship of integration, the scholarship of application, and the scholarship of teaching. The course will also introduce students to quantitative and qualitative design approaches, examine foundational issues of research from both quantitative and qualitative perspectives, and build skills for interpreting and evaluating research including criteria for evaluating empirical studies, particularly in the social sciences and in education.
This introductory course in program evaluation takes the learner from the beginnings of program evaluation as an academic discipline through current logic model-based evaluation that encompasses the ethical, political and social landscapes within which an evaluation resides. Students will have an opportunity to design each step of an educational program evaluation beginning with an evaluability assessment. Diverse models focused on different stakeholder audiences and program goals will be implemented to evaluate real-life, ongoing educational programs selected by each student. Students will develop logic models to guide evaluation planning and implementation. Data collection and analysis plans will include quantitative, qualitative and mixed methods approaches. The course will culminate in presentation of an evaluation report based on data from actual educational programs.
Learners will gain an understanding of the statistical tests used in medical and health professions education research. The focus is on understanding why a particular test is used and how to interpret and apply results obtained from each test. Utilizing SPSS statistical analysis software, learners will perform all statistical procedures related to descriptive statistics and inferential statistics such as t-tests, analysis of variance, correlation, regression, and chi-square. Visual representation of data will also be covered.
Mixed Methods Research Designs
Learners will explore general qualitative/quantitative research methods used in medical and health professions education research. The goal of the course is acquisition of skills needed to understand, plan, manage, analyze, and interpret studies where data is mixed (qualitative and quantitative).
The MHPE Business of Simulation Certificate is jointly administered by the School of Health Professions and the Sentara Center for Simulation and Immersive Learning (SCSIL). We designed this certificate for healthcare professionals who are interested understanding in learning the core business principles needed to manage a simulation center.
Course Requirements
Course Description
Today's simulation centers are analogous to small businesses, in that they involve small teams leveraging limited resources to support the mission critical needs of clients (students, faculty, residents, practicing clinicians, etc.). Like small businesses, it is critical for simulation leaders to understand and manage both immediate and long term resource requirements and planning considerations be they funding, staff, equipment, or space related. This certificate explores the core business principles required to help leaders both better manage their center and develop or hone their business model for both internal and external opportunities.
The MHPE Teaching Certificate provides advanced skills in developing appropriate instruction, curriculum and assessment strategies for academic and clinical settings with an emphasis on real-world, practical applications. This certificate program is designed for those who:
Wish to become more of an educational leader at their institution
Teach or plan to teach students, residents or other medical and health professionals
Play a role in curriculum development, revision or evaluation
Course Requirements
Course Descriptions
Sociocultural Contexts of Teaching and Learning
The goal of the course is to provide learners with a strong background for designing educational experiences, planning educational programs, and conducting research on a variety of teaching and learning-related questions. Application of principles to medical and health professions education is expected. The course is designed to help participants consider the meaning of learning and the various contextual factors that influence the learning process in higher education. This course explores the application of the learning science in the design of learning environments. Learners evaluate inclusive, diverse, and equitable educational environments and use insights to improve practices, as well as the technologies higher education institutions use to document and assess learning.
Designing Educational Experiences
This course prepares learners with theoretic foundations and best practices to plan, apply, design, and evaluate appropriate instructional methods to enhance learner achievement. Application of principles to medical and health professions education is expected. Learners will analyze a wide range of instructional methods and then design an array of formative and summative assessments utilizing evidence-based assessment instruments and techniques.
The practicum provides learners with an in-depth supervised opportunity to apply knowledge and skills gained in the two MHPE core teaching courses – Sociocultural Contexts of Teaching and Learning and Designing Educational Experiences. Working as part of a simulated faculty team, learners will completely develop all components of an online course. This is a virtual practicum.
Meet our students
Mila Shah-Bruce
Mila is an Assistant Professor of Obstetrics and Gynecology at Louisiana State University-HSC Shreveport. She serves as the OBGYN clerkship director for third and fourth-year medical students. Mila is active in committees such as the academic success counsel for medical students, residency clinical competency committees, medical curriculum committee, and the hospital medical executive committee. She is passionate about education and empowering students, faculty and support staff. In her free time, Mila likes to get outside and enjoy nature with her family and furbabies.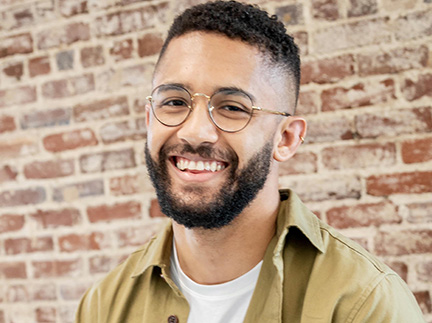 Jeremy Amayo
Jeremy is a second-year DMHPE student interested in studying student self-regulation following academic failure. He serves as director of ultrasound education and is an assistant professor and critical care PA at Emory University School of Medicine. In his teaching role, he has implemented several novel active learning strategies to improve PA student competency in the basic sciences. Outside of his professional life, Jeremy loves to spend time with his wife and 3 children, play music and train Brazillian Jiujitsu. You'll usually find him with an ultrasound probe in one hand and a coffee in the other.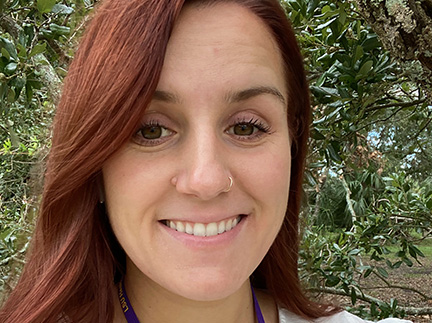 Alyssa L. Ransom
Alyssa is an Instructor of Gross Anatomy in the nursing school at LSUHSC in New Orleans, LA . She hopes to research the inclusion of race and ethnicity in the basic science course curriculum and how that impacts students. And, she admits to being one of those people that likes to do organized runs on holidays!
Becky Gates, MD
Becky is a general surgery resident at Virginia Tech-Carilion Clinic in Roanoke, VA. She is taking two professional development years to complete her MMHPE at EVMS and work as a research fellow for the C-STAR surgical education lab at University of Michigan. In the future, Becky sees herself as a program director or clerkship director who is involved in nationwide conversations about how to improve our surgical education system. In her spare time she enjoys hiking, cooking and gardening with her husband. She also enjoys snuggling with their two fur-babies.
Melanie Nohrer, MEd
Melanie has worked in higher education for 11 years at a variety of administrative levels and departments including admissions, academic affairs, administration and graduate medical education. She has a Master of Education in Higher Education, Educational Leadership degree from Liberty University, and is currently pursuing a DMPHE degree at EVMS. Melanie works as an Educational Specialist for EVMS Obstetrics & Gynecology, managing all three fellowship programs. Her top priority within the program is a fellow's success, achievement and overall experience!
Eric J. Werner, MD, MMM, FAAP
Eric is an MHPE Teaching and Scholarship Certificate student and a Professor of Pediatrics and Vice Chair for Faculty Affairs, Pediatrics at EVMS. He is a member of the Division of Pediatric Hematology/Oncology and the Chief Medical Quality Officer with the Children's Specialty Group. Eric also serve as the Medical Director for Clinical Resource Management at the Children's Hospital of The King's Daughters.
Kathleen Gabana, MEd
Kathy has worked in education for nearly 10 years with experience in higher education, private and for-profit institutions in the areas of admissions, enrollment, student retention, advising, accreditation and program management. She currently serves as the Program Administrator for the Distance Education programs at EVMS and her responsibilities include overseeing the day-to-day administrative functions for multiple doctoral, master's and graduate certificate programs while overseeing a staff that supports 200+ students, program directors and faculty. As a doctoral student, her research interests are diversity, equity, bias, distance education and non-traditional learners.
Previous
Next