Surgical Assisting Curriculum
Our 70-credit-hour program includes 36 credits of training in our 10-month didactic phase and 34 credits of clinical practice in the second year.
Didactic Phase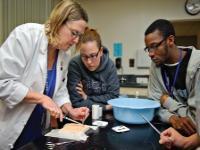 Our immersive experience allows for direct observation and active participation with the surgical team to develop the critical clinical skills surgical assistants need. Students are exposed to surgical services, including perioperative, intraoperative and postoperative patient care, and ancillary surgical services, such as central sterile services and pathology.
This training complements the hands-on instruction students receive in the surgical environment. Our students enter the clinical phase of the program with practical experience in the operating room and a strong foundation of surgical knowledge.
Clinical Phase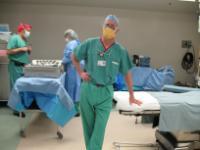 In contrast to other accredited programs, our program manages and assigns students' clinical placements. At the end of the clinical phase, students:
Have completed eight clinical rotations.
Have performed the duties of and served in the role of the surgical assistant in at least 240 cases.
Have the equivalent competencies expected of a junior surgical resident.
Are eligible to sit for a national certification exam.
Course Sequence
Course Descriptions
Medical Terminology - MSA-502
2 Credit Hours
The medical terminology class is an intense, three-week course taught at the beginning of the surgical assisting student's first year. The course employs a body systems-oriented, word-analysis approach to learning medical terminology. The goal of the class is to prepare students for the terminology they might encounter in their subsequent coursework, in their clinical rotations and ultimately in their roles as healthcare professionals.
Surgical Microbiology with lab - MSA-503
4 Credit Hours
Surgical Microbiology reviews the infectious processes and organisms, immune responses, risks to operating-room patients and personnel and universal precautions.
Advanced Topics of Surgical Assisting (I & II) - MSA-504/505
1 & 1 Credit Hours
Advanced Topics of Surgical Assisting is a monthly journal club that investigates topics addressed in the core curriculum classes as well as current issues impacting the surgical assisting profession. Course readings will be provided by program faculty and surgical assistant professional organizations.
Operative Practices and Clinical Reasoning - MSA-506
2 Credit Hours
Lecture series is a seminar course that explores the details of topics such as attitude and etiquette in the OR, casting and splinting, stress management, ethics, surgical technique, OR conduct and patient interaction, back-table setup and the SA, trauma, sterile technique, gowning and gloving review. The seminars are conducted by program alumni and other medical professionals.
Surgical Physiology - MSA-515
4 Credit Hours
Surgical Physiology is a course provided by the biophysiology and applied surgical pathology for the advancement of knowledge application in the surgical environment designed for Surgical Assistant students. Topics including cell injury, inflammation and wound healing are covered.
Principles of Surgical Assisting (1 & 2) - MSA-517-520
2 & 2 Credit Hours
Principles of Surgical Assisting is a two-part course that teaches fundamental skills: Placement of monitoring devices, review of bladder catheterization, surgical positioning, application of tourniquets, prepping and draping, operative instrumentation, visualization techniques, hemostasis, suturing and knot tying techniques, dressings and drainage systems, post-operative pain control methods and the use of special equipment.
Surgical Rounds - MSA-507
3 Credit Hours
Surgical Rounds is a hands-on clinical training experience lead by surgical residents to complement the student's didactic experience through active participation as part of a surgical team to develop the critical clinical skills needed for a surgical assistant.
Clinical Anatomy for Health Professions - MSA-508
5 Credit Hours
Gross Anatomy is a regional study of anatomy related to surgical procedures with cadaver lab. It also includes review of physiology relevant to survey and an introduction to basic embryology, histology and pathology.
Advanced Surgical Pharmacology - MSA-510
2 Credit Hours
Advanced Pharmacology is a biophysical science based course which examines drugs used in surgery and emergency drugs, reviewing anaphylactic and toxicity reactions. The course also addresses anesthesia methods and agents and their methods of administration, describing how the surgical procedure may be affected by the agents used.
Minimally Invasive Surgery and Simulation Skills Lab - MSA-513
4 Credit Hours
This course is designed to give the surgical assistant student a broad look into minimally invasive surgery while introducing the techniques involved. Numerous subspecialties, how minimally invasive techniques are utilized, and the history of these techniques will be discussed. Students will engage in hands-on learning to help facilitate the learning curve once they are in their clinical year.
Surgical Clinical Rotations - MSAR-700#'s
24 Credit Hours
Eight six-week surgical clinical rotations (3 credits each): 1,920 hours of clinical experience with up to 25% of training in surgical specialty such as orthopedics, plastics, cardiac, vascular and neurological.
Trauma Surgery Rotation - MSA-600
2 Credit Hours
The Trauma Surgery Rotation is a designed to expose surgical assistant students to the specialty dedicated to the care of the individual who has been injured, whatever the mechanism. Students will complete two 25-hour rotations with teams at specific clinical training sites.
Business of Surgical Assisting Services - MSA-601
3 Credit Hours
This course presents an in-depth overview of the business of surgical assisting. The student is exposed to all aspects of the surgical assisting business to help them make informed career decisions.
Medical Ethics of Surgical Assisting - MSA-602
2 Credit Hours
This course explores a variety of ethical and legal issues facing healthcare professionals and the Surgical Assisting profession.
Capstone Project - MSA-603
3 Credit Hours
This is an applied science and practice application course. Students develop an educational resource product in their area of surgical specialty concentration for contribution to the program's resource library.