Is Medicine for Me?
Thirty-year partnership creates unique opportunities for high-school students considering the health professions
At 7:40 a.m. in a Lester Hall lab, instructor Terry Zablocki moves from table to table, posing questions to her three-dozen students and responding to theirs.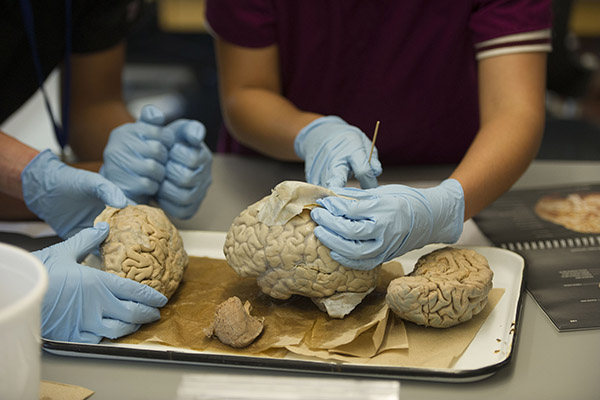 At one table, she picks up a brain. "Where's the hippocampus?" she asks. At another, she traces a finger along the brain and says, "See this? This is your optic nerve."
The room buzzes with the low-level conversation of students who are focused and engaged. Five or six at each table inspect their brain samples with gloved hands, asking questions of one another and making notes. "Is this the lateral ventricle?" one student asks her tablemates.
The scene — for all intents and purposes — looks like any other EVMS anatomy class. But these aren't graduate- or even college-level students. In fact, they haven't finished high school. These students are juniors in the Medical and Health Specialties Program at Maury High School, a collaboration with EVMS that celebrates its 30th anniversary this year.
"I was really excited for anatomy class," says junior Madeline Crockett, a pediatrician-in-the-making whose older sister graduated from the program. "It's been very cool to have an understanding of the body that's not from a textbook."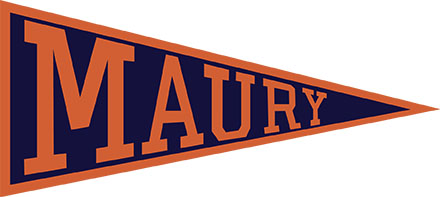 After joining EVMS in the late 1980s, Paul Aravich, PhD, Professor of Pathology and Anatomy, remembers asking about the high-school students he saw on campus. "I said to myself, this is a pretty interesting community partnership." He's been involved in various ways ever since. Today, he gives lectures and presentations, serves on the program's admissions committee and advocates for it among EVMS faculty.
"This program," Dr. Aravich says, "is the perfect example of EVMS living up to its vision of being the most community-oriented school of medicine and health professions in the nation."
But it pre-dated that official vision by decades. In 1986, a grant from the National Institutes of Health established a three-year pilot partnership between EVMS and Norfolk Public Schools to promote academic excellence in the sciences and to increase diversity in the medical and health professions. The first class comprised 27 high-school students. Thirty years later, the pipeline program is thriving, with 234 rising freshmen from all over Norfolk competing for 55 spots in this year's entering class.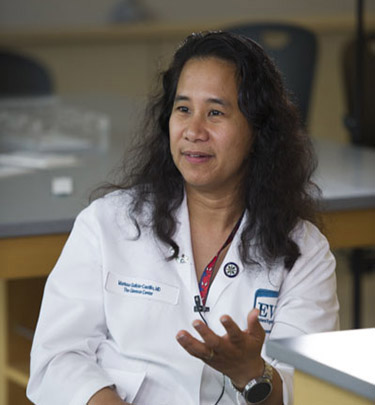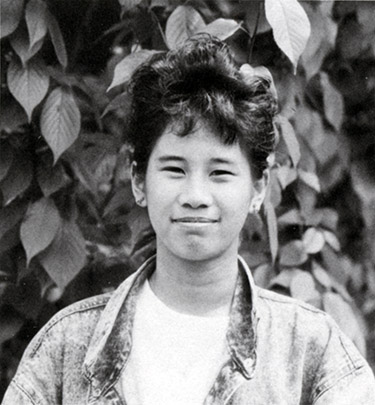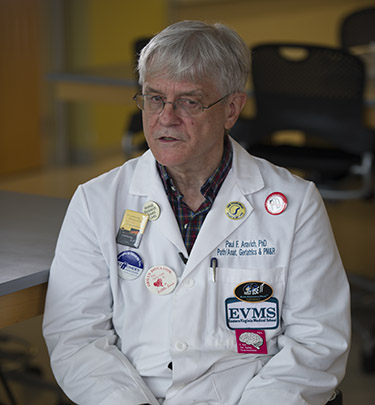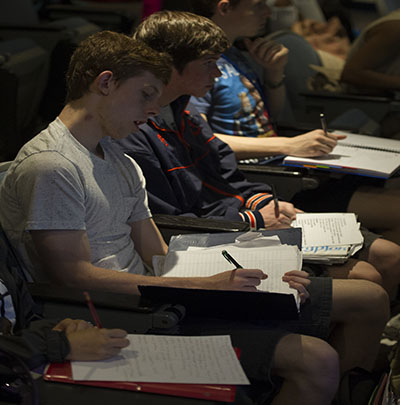 Marissa Galicia-Castillo, MD (MD '97, Internal Medicine Residency '00), the Sue Faulkner Scribner Distinguished Professor in Geriatrics and Associate Professor of Internal Medicine, graduated with the program's second class. She then earned a full scholarship to the BS/MD program offered jointly by Old Dominion University and EVMS.
"A lot of my friends in high school chose this program," she says. "So I did, too."
Dr. Galicia-Castillo says students learn not only what fits them, but also what's not a good fit. "Having the opportunity to see a cadaver isn't something even most college students are exposed to," she says. "Either you love it or you hate it."
Noelle Gabriel, MD (MD '06, Pediatrics Residency '09), was a student of Dr. Galicia-Castillo at EVMS. She and her sister, Candice Gabriel, MD (MD '07, Pediatrics Residency '10), are Maury-program graduates who went on to become pediatric specialists.
"I consider myself incredibly fortunate to have attended the program," says Dr. Noelle Gabriel, who was elected to the Norfolk School Board in May. "I am grateful to those who had the visionary thinking to create it, putting the possibility of becoming a medical professional at the fingertips of those who would not have considered such a choice."
---
From pilot experiment to millions in scholarships
High-school students are often surprised by the recent explosion of opportunities in the health professions, says Anne Christie, Program Leader and Academic Advisor since 2009. "Initially when I ask what careers they're interested in," she says, "they always say being a doctor or a nurse. But these students are exposed to forensic scientists, neurosurgeons, sports medicine doctors, surgical assistants, even cosmetic restoraticians who work in funeral homes."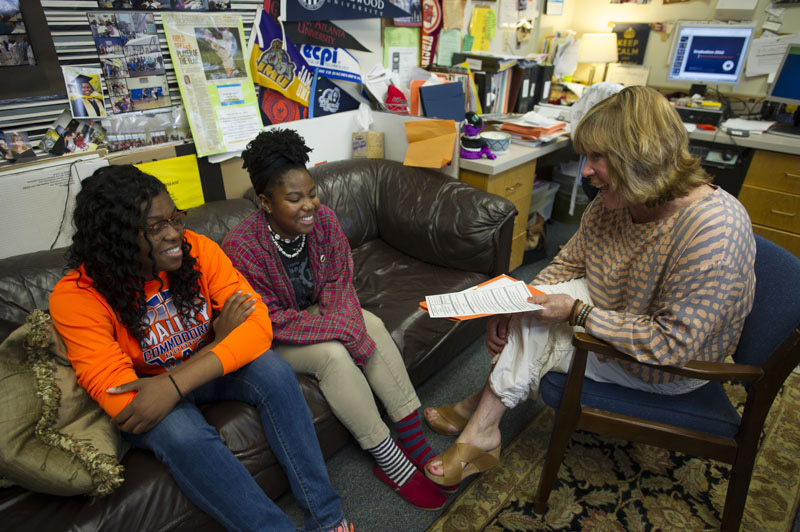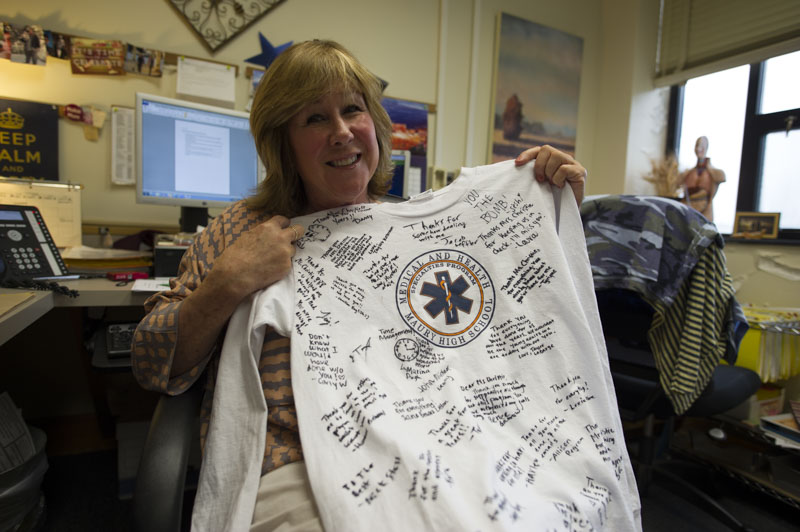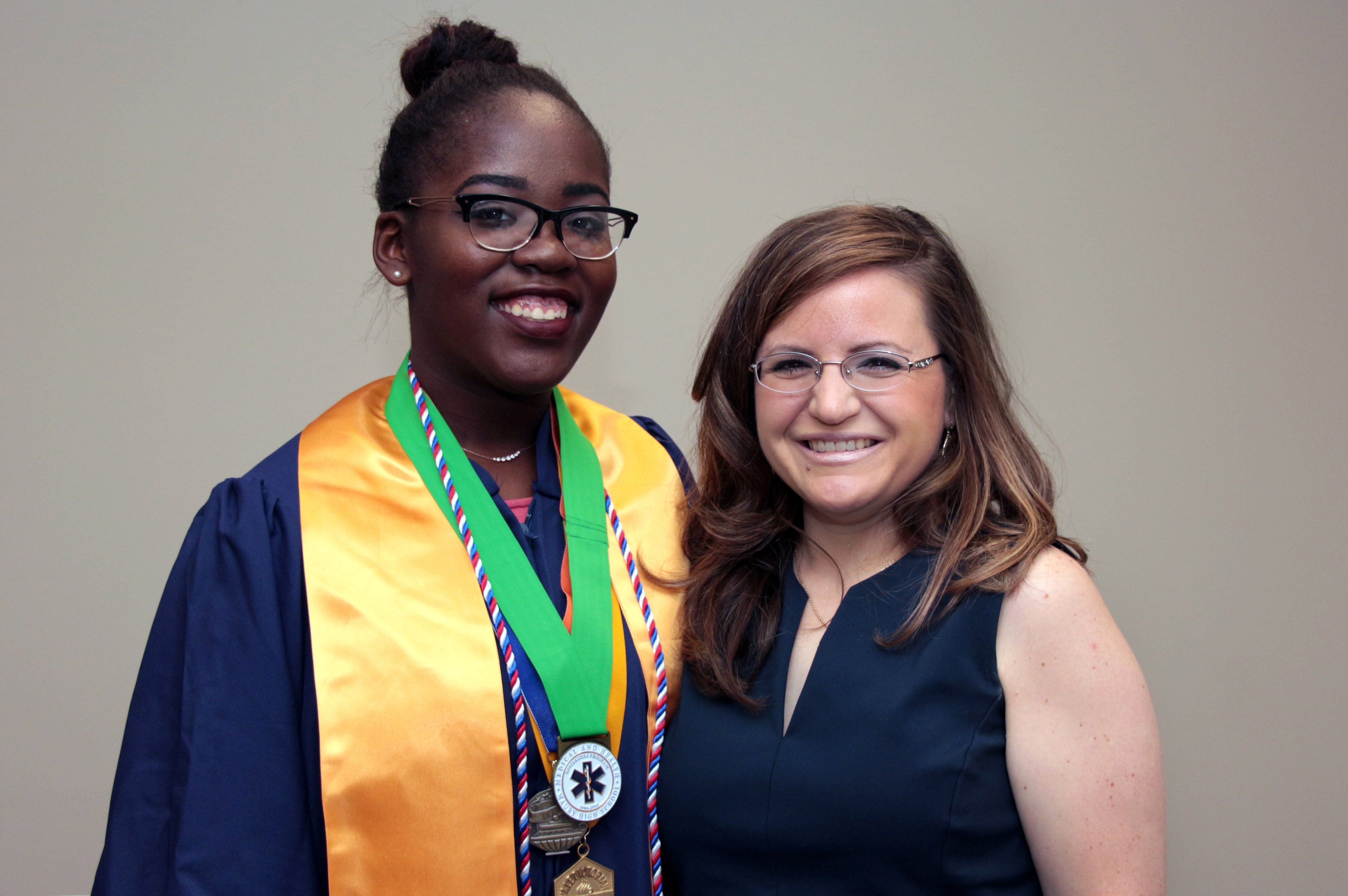 Seshi Konu entered the program wanting to be a doctor. "But now I'm not sure what I want to do," she says, "because I have so many options." After graduating in May and earning scholarships to the University of Virginia, she says, "I feel prepared to go out and do great things."
Program graduate Teonna Sharp, another UVA scholarship recipient, is Ms. Konu's roommate in Charlottesville. "The academics are rigorous," Ms. Sharp remembers. She and her twin brother, also a program alumnus, are the first in their family to attend college — he's now at Virginia Tech. Their younger sister is following in their program footsteps.
"However high I set the bar," Ms. Christie says, "these students will rise to it. It's been incredibly rewarding to see their development from the time they start as freshmen until they're seniors."
And develop they do. For the last five years, every program graduate was accepted into college except one who chose to enlist in the military. The 33 graduates in 2016 completed more than 9,500 hours of community service, had a collective grade-point average of 4.04 and earned $2.7 million in scholarships.
More than $681,000 of that scholarship money was offered to Taylor Davis, 2016 program valedictorian whose GPA was an astonishing 4.72. Now a student at Georgetown University, she plans to be an orthopedic surgeon.
"These are phenomenal students," Ms. Christie says. "They're from diverse backgrounds and neighborhoods, yet they all share a common goal of wanting to be challenged."
Maury High School hosts many of the program classes, but juniors travel by bus to EVMS daily for a 7:30 a.m. Anatomy Physiology class, and seniors come for parts of the Forensic Science instruction. Throughout the academic year, EVMS faculty members and staff give special lectures and presentations at Maury. The students' annual "white-shirt ceremony" is modeled on EVMS' white-coat ceremonies, and they recite their own version of a Hippocratic oath written six years ago by a program student.
"I am proud of our longstanding involvement with this pipeline program," says Richard Homan, MD, President and Provost of EVMS and Dean of the School of Medicine. "Over its 30-year history, this unique partnership has connected hundreds of high school students with health-care opportunities. It is also a wonderful example of how EVMS creates innovative ways to collaborate with our community."
Thirteen years ago, Terry Zablocki was so impressed with the Maury program that she left her job at Old Dominion University to teach several program classes. "The students come in as young, green freshmen," she says, "and I get to see them develop and mature into these great individuals by the time they're seniors. That's why I do it — I love working with these kids."
EVMS faculty and staff have been overwhelmingly supportive of program needs, Ms. Zabocki adds. "Not just the professors but everyone there. Even the security staff love seeing our students."
Dr. Galicia-Castillo made a point to stop by the seniors' graduation ceremony held at EVMS in May. "I have a special place in my heart for this program."