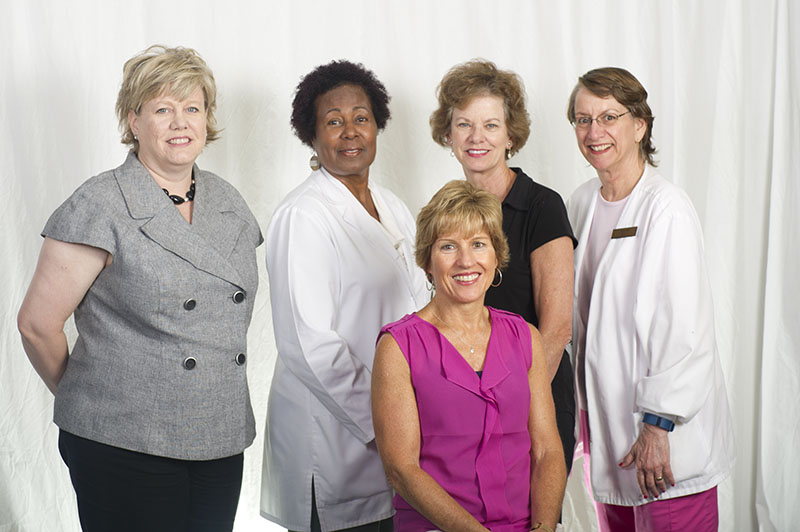 Unique collaboration provides lifesaving screenings to uninsured women
Michele Hopkins doesn't fear much. The Norfolk resident has worked as a deputy sheriff and a corrections officer. She raised a daughter on her own. She even went back to college at 40.
But in 2014 when she felt a weird sensation in her right breast, she panicked. "I didn't have insurance at the time," she says, "so I didn't know what to do."
Then she learned about Every Woman's Life, a program funded by the Centers for Disease Control that provides uninsured women who meet specific criteria with free screenings for breast and cervical cancers. The CDC grant is awarded by the Virginia Department of Health to EVMS for screenings in Norfolk and Portsmouth. They are conducted through a collaboration that includes Sentara Healthcare, Bon Secours and EVMS Medical Group.
Ms. Hopkins' weird sensation was, in fact, breast cancer. Because it was caught early, though, Eric Feliberti, MD, Associate Professor of Surgery, was able to perform a lumpectomy, saving her breast. Chemotherapy and radiation followed. So far she is cancer-free, but Dr. Feliberti and Every Woman's Life still monitor her.
Of the nearly 13,000 women screened through the program, Ms. Hopkins is among the 2.4 percent treated for breast or cervical cancer. "A lot of women don't know where to go," she says. "I let them know there is help available."
Early detection improves cancer survival rates and quality of life during treatment, says Tammy Miller, Breast Program Manager at Sentara Norfolk General Hospital. "Out of all Virginia health districts," she says, "Norfolk is in the top three for breast cancer rates. That's why Sentara is happy to collaborate with EVMS on these vital screenings for women who have no other options."
The program holds two clinics in Norfolk and one in Portsmouth each month. EVMS resident physicians, supervised by an EVMS attending physician, examine the Norfolk women at a Sentara Ambulatory Care Center. During a recent clinic, 29 women received free mammograms in the Sentara mobile mammography van parked outside. If cancer is found, Amy Swink, Program Coordinator and Case Manager since the program's 1997 launch, helps the patient apply for Medicaid to cover treatment costs.
"Amy's been extremely resourceful in solidifying relationships with our community partners," says C. Donald Combs, PhD, Vice President and Dean of the School of Health Professions.
As to why EVMS took this on nearly 20 years ago, Dr. Combs is clear. "EVMS is a convener of community issues around health care," he says. "We can't fix everything, but this is something we can do."