Passion, persistence pay off for retiring PA program director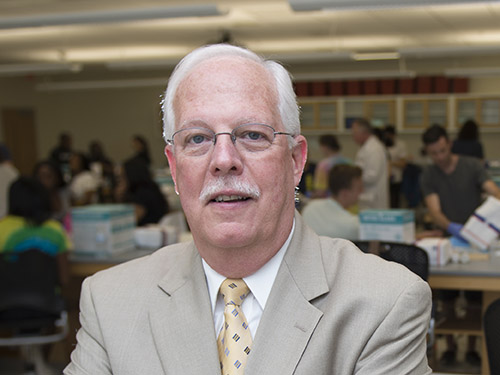 Take a helicopter ride to a glacier in Juno, Alaska.
Leave a lasting impression on your chosen profession.
Retire at the top of your game.
Thomas Parish, DHSc, PA-C, can check these off his bucket list. Not bad, he says, for a first-generation college graduate and retired U.S. Air Force officer.
This month, Dr. Parish retired as Professor and Director of the EVMS Master of Physician Assistant (PA) Program. It wasn't a decision made lightly, but it's one he is embracing. At 67, Dr. Parish is ready to travel and embark on new adventures.
"This has been my identity for 12 years," Dr. Parish says. "It has been an amazing experience to watch the students learn and absorb what they need to thrive, but it is time to pass on the reins."
Dr. Parish came to EVMS in 2004 when the PA program class size was just 35 students. Today, class size has more than doubled, and the program receives thousands of applications every year.
"I've seen the profession evolve and gain respect and acceptance," he says. "It's grown and changed a lot during my 35 years of practice." To that end, Dr. Parish led the charge to update the program admissions process, enhance the curriculum, develop a core faculty of talented, dedicated PAs and improve the board performance of new graduates.
"Dr. Parish increased the national stature of the PA program and has made EVMS a highly sought-after institution for those seeking training as a Physician Assistant," said C. Donald Combs, PhD, Vice President and Dean of the School of Health Professions. "His impacts on the PA program and on the institution have been significant and overwhelmingly positive."
EVMS alumnus Paul Snow, MS, PA-C (MPA '09), attributes much of his success to Dr. Parish's mentorship.
"Tom offered sound advice and great assistance in my transition from a 22-year career in the Navy to a student at EVMS," Mr. Snow says. "His leadership and guidance was paramount in my success as both a student and leader in the PA community."
The program's former Associate Director, Kimberly Dempsey, MPA, PA-C, (MPA '03), has assumed the role of Director. "Kim is talented and poised to take this program where it needs to go next," Dr. Parish says. "I can honestly say there are only good things ahead."
And while his bucket-list adventures will keep him busy, Dr. Parish won't be completely absent from campus. He will continue teaching "Introduction to the PA Profession," sharing his experiences with new students.
That is, of course, right after he finishes his Alaskan glacier tour.