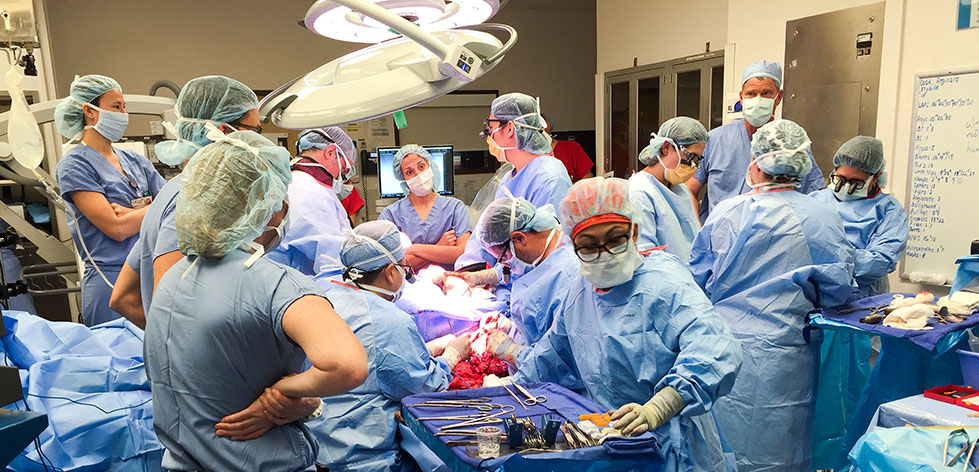 Groundbreaking transplant surgery puts skill to the test
In Scott Hansen's work, the smallest, intricate details matter most, especially when you're making history.
Earlier this year, Dr. Hansen (MD '97), along with fellow University of California San Francisco (UCSF) surgeon Lisa Lattanza, MD, led two medical teams in a groundbreaking elbow transplant surgery.
A car accident seven years ago left Texas resident Reggie Cook with a shattered elbow in his right arm and no function in his left. Desperate to regain use of his right arm, Mr. Cook asked his doctor to do something never done before: transplant his good elbow from one arm to the other. The unique proposal made its way to the UCSF surgery department where Drs. Hansen and Lattanza used computer imaging and practiced variations of the process in the cadaver lab before agreeing to do the procedure.
"It was exciting and scary all at the same time," Dr. Hansen says. "My role was harvesting the elbow joint from the left arm with a vascular pedicle to keep it alive, and then transplanting it to the right arm and reconnecting the blood supply to make it be alive."
The 12-hour procedure involved slicing through layers of tissue and severing muscle and blood vessels in a way that would preserve their function. Making the surgery more complex was that placing the left elbow in the right arm would require the bones to sit backward – like working with a mirror image.
"Whenever you do something that has never been done before," he says, "you worry because no matter how much planning you have done, unknown things can come up. But the case itself went as smoothly as possible, and I had a big team that provided the support necessary to complete the surgery."
Mr. Cook has since regained function in his right arm and is able to care for himself in a way that had been impossible after the car accident.
"It has been amazing to see him do things like feed himself and care for himself again," Dr. Hansen says.
While he has been busy making history at UCSF, Dr. Hansen credits much of his strength in medicine to his foundational years at EVMS. In fact, he believes that the education at EVMS rivals better known medical schools.
"I was well suited for the rigor of UCSF because of EVMS," he says. "It's a phenomenal school, the camaraderie and professors are unbelievable and the education you receive is awesome."