EMERGING LEADERS
Take Their Seats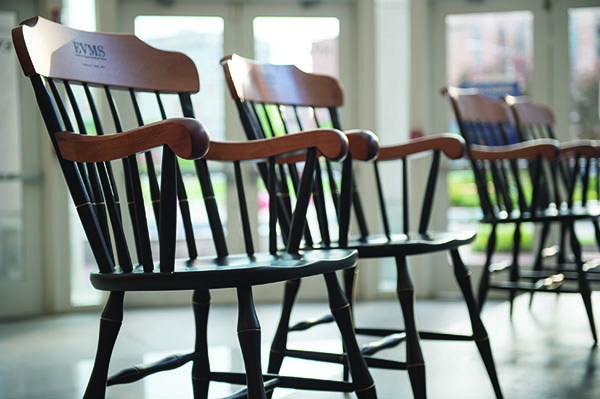 A Passion for Surgery: Rebecca Britt, MD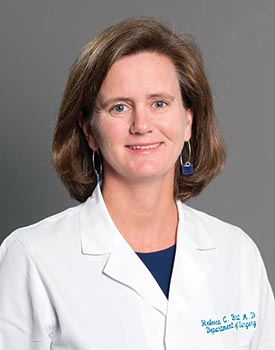 Associate Professor of Surgery
Associate Program Director, General Surgery Residency Program
Surgical Director, EVMS/Sentara Center for Surgical Education
Rebecca Britt, MD (MD '98), discovered a passion for surgery during her third-year rotations as an EVMS student. Since joining the school's faculty in 2004, Dr. Britt helped develop the Acute Care Surgery service line at Sentara Norfolk General Hospital, the region's only designated Level 1 Trauma and Burn Center. She also has worked closely with the Sentara Center for Simulation and Immersive Learning to improve hands-on experiences for the next generation of surgeons.
"We are fortunate to have such a sophisticated simulation center," Dr. Britt says, "giving students the opportunity to practice a wide range of medical procedures. That ultimately translates into the best care for our patients."
In shepherding the general-surgery residency program, Dr. Britt plans more team-based and multispecialty components for the simulation curriculum. She also mentors young surgeons by overseeing a mentoring program through the American College of Surgeons, as well as involvement with state and national mentoring programs for the Association of Women Surgeons. Expanding these opportunities for new surgeons — particularly women — in Hampton Roads is important to her.
"Young surgeons encounter unique challenges and often feel the need to connect with more experienced surgeons," says Dr. Britt, "I have been blessed with a number of fantastic mentors, and I'm grateful that Sentara and EVMS have provided this opportunity for me to further develop my leadership skills so that I can provide the best training possible for future surgeons."
---
Applying Data to Improve Care: Michael Hooper, MD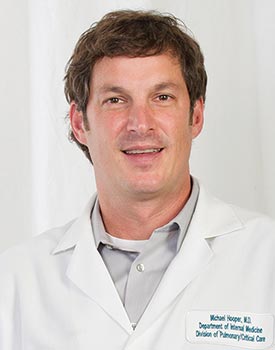 Assistant Professor of Internal Medicine
Chair, Sentara Healthcare Orderset Oversight Group
Co-chair, Sentara Healthcare Critical-Care High Performance Team
Michael Hooper, MD, believes that the application of solid information technology is key to high-quality, compassionate care. A specialist in pulmonary and critical-care medicine, Dr. Hooper devotes his leadership abilities to helping EVMS and Sentara Healthcare make better use of the voluminous amount of clinical data available in electronic health records (EHR).
Dr. Hooper plans to pursue board certification in clinical informatics, the application of information technology to deliver medical care. "There seems to be a disconnect between the hands-off specialty of clinical informatics and a very hands-on specialty such as critical care," Dr. Hooper says. "However, having a good understanding of the information systems available, as well as the clinical workflow, is vital to improving the quality and efficiency of our care."
A member of several groups focused on informatics and clinical decision support for Sentara Healthcare, he started an informatics group at EVMS that's improving the school's outpatient EHR to promote efficiency and patient safety.
"These endowed chairs are invaluable in that they will give faculty more time and resources to focus on the academic endeavors we're passionate about," he says. "That may result in discoveries that will reflect well on the medical school and lead to more publications, new clinical programs and new research initiatives. All of those things will be good for the Hampton Roads community."
---
A Heart for the Community: Cynthia Romero, MD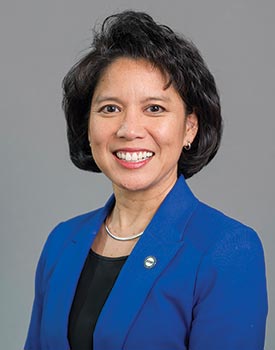 Director, M. Foscue Brock Institute for Community
Associate Professor of Family and Community Medicine
Cynthia Romero, MD (MD '93), has dedicated her life to promoting the health and wellness of family, friends and neighbors. From practicing medicine alongside her mother, also a family physician, to serving as Virginia's Health Commissioner, Dr. Romero has advocated for stronger health-care policies and better health-care delivery to ensure that every patient receives compassionate, high-quality care.
"Hampton Roads is my home, so I am passionate and eager to do whatever I can to improve the health and wellness of everyone who lives here," she says. "I want to do everything I can to raise awareness of the health-care gaps in Virginia and throughout the nation. And then I'd like to help close those disparities so that all people have an equal chance to live well and to stay healthy."
Dr. Romero hopes to strengthen the medical school's community focus; create partnerships with local hospitals, government agencies and nonprofits; and promote research activities focused on community health.
"We want to constantly look at our impact in improving the health of our community through our educational, clinical care and research activities," says Dr. Romero, a past President of the Medical Society of Virginia, which represents over 10,000 physicians, residents and medical students across the commonwealth. "As we expose our medical and health-professions students to measurable, outcome-driven ways of serving the community, we are helping shape the community-oriented mindset of the next generation of health-care providers."
---
Healing Lives Through Surgery: Eric Dobratz, MD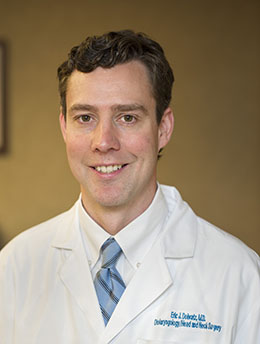 Director, Division of Facial Plastic and Reconstructive Surgery
Associate Professor of Otolaryngology-Head and Neck Surgery
Director, Otolaryngology Residency Training Program
As a medical student at EVMS, Eric Dobratz, MD (MD '03), became interested in otolaryngology and facial plastics out of a desire to help children with deformities such as cleft palate and absence of an ear. Since then, he has been on several medical mission trips, including to Kenya.
"It's so rewarding to see the positive changes I can make in other people's lives," Dr. Dobratz says. "I love to see a patient's joy when we take off the dressings and they see the results."
Through his leadership roles at EVMS, he hopes to expand faculty development opportunities in patient safety and quality improvement, a new focus in medical education, he says.
"These were not part of the curriculum for many faculty members who have been out of school for a while," he says, "but they are critical for today's residents. It's important to train faculty on the best way to teach these subjects so they can effectively train residents at the bedside or in the clinic."
Recently appointed to the Executive Council of the Otolaryngology Program Directors Association, he hopes to take on more leadership roles with organizations such as the American Academy of Facial Plastic Surgery. "I'm grateful for this opportunity from EVMS and Sentara," Dr. Dobratz says. "As faculty are supported to become leaders in their medical specialties, we will be able to better prepare future generations of doctors to offer patients the best care possible."