Electron Microscopy:
JEOL transmission electron microscope 1200 EX ll equipped with an 11 megapixel AMT digital camera, model XR111.
Reichert Jung Ultracut E microtome
Fluorescence Microscopy:
Olympus BX50 upright microscope with an Olympus DP70 digital camera
Nikon inverted fluorescent microscope with a Spot RT Slider digital camera.
Confocal Microscopy:
The Zeiss 510 laser scanning confocal microscope has been recently replaced with a new Zeiss 880. The Zeiss 880 has an environmental chamber (temperature and atmosphere controlled), CLARITY 20x lens with inverter and automated scanning stage in addition to standard objective lenses (10, 20, 40, 63, 100x) and UV and visible lasers (covering 405, 458, 488, 514, 543, 633 nm).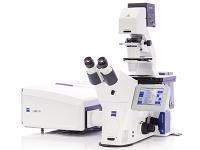 In vivo Imaging:
IVIS 200 in vivo imaging system with fluorescence, bioluminescence, X-ray and visible light imaging capabilities (available through Comparative Medicine).
Image Analysis:
Six computers at EVMS running MetaMorph imaging software and one computer running IVIS image analysis software
Hewlett Packard inkjet 2200 color printer