Joseph L. Hudgens, MD
Associate Professor of Obstetrics and Gynecology
Vice Chair of Gynecology
Division Director of General Obstetrics and Gynecology
Sentara-EVMS Director of Advanced Gynecologic Surgery Center
MIGS Fellowship Program Director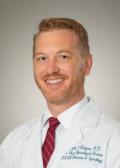 Dr. Hudgens, Vice Chair of Gynecologic Services, Director of the Sentara-EVMS Advanced Gynecologic Surgery Center and Associate Professor of Obstetrics and Gynecology, is an expert in minimally invasive gynecologic surgery. Dr. Hudgens pioneered the 2-port myomectomy, which uses a specialized laparoscopic port that allows multiple tools to be inserted through the belly button. The surgical technique decreases the size and number of scars for patients.
His clinical interests consist of complex gynecological surgery, second opinion for patients with severe endometriosis, fibroids, and refractory pelvic pain. Dr. Hudgens earned his medical degree from the University of Arkansas for Medical Sciences and served two residencies at the University of Louisville in Obstetrics and Gynecology. He is a board certified fellow with the American College of Obstetrics and Gynecology.