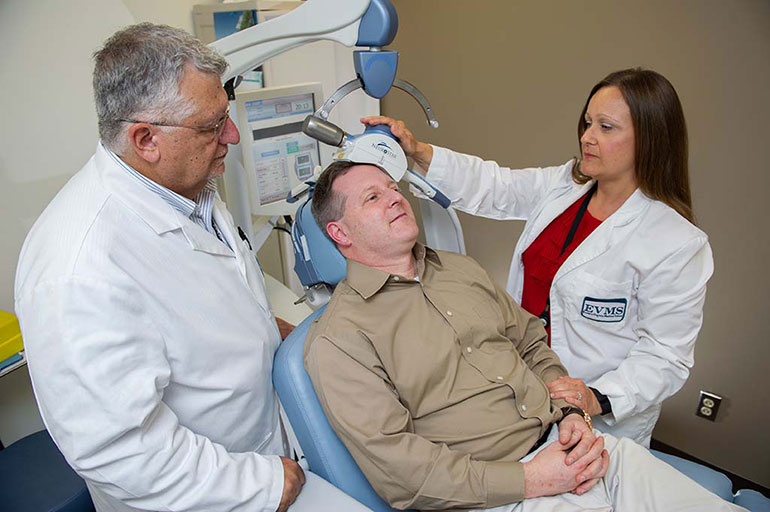 Study shows promising results for treating and curing PTSD
Researchers with EVMS Psychiatry and Behavioral Sciences have cured veterans suffering from post-traumatic stress disorder (PTSD) using therapeutic brain stimulation in a research study.
The treatment, called Transcranial Magnetic Stimulation (TMS) therapy, utilizes a highly focused magnetic field to target specific areas of the brain while patients talk about the worst memories that triggered their PTSD. The study was led by Serina Neumann, PhD, Professor of Psychiatry and Behavioral Sciences and focused on treating veterans with severe PTSD that had not been responsive to any other treatment, including prescription medication.
All nine veterans who participated in the two-year study saw drastic improvements in behavior and emotional response following TMS treatment. Seven of the patients no longer qualify for a PTSD designation or need ongoing treatment. Nearly all the patients were able to stop using prescription PTSD-related medication during the study.
"They were more present in their lives and able to go through daily activities without feeling overwhelmed," Dr. Neumann says. "They could go to the mall without peering around the corner. They were holding hands with their spouses and hugging again. It was incredible to see."
The FDA has approved TMS therapy for depression patients, but not for PTSD. Dr. Neumann is planning a second research trial to further establish TMS as a viable treatment for PTSD.