Diabetes researcher named Virginia's top scientist
Jerry Nadler, MD, an internationally known physician/scientist who is making potentially game-changing advances in diabetes research, has been named Outstanding Scientist in Virginia for 2016.
The prestigious award is given annually by the Science Museum of Virginia. Gov. Terry McAuliffe presented the award during a Feb. 25 ceremony in Richmond.
"Dr. Nadler is not only a first-class researcher, educator and clinician, he also recruits wonderful people and he's able to mentor great researchers and clinical scientists like himself," says Richard Homan, MD, President and Provost and Dean of the School of Medicine. "He's a resource not only for EVMS but for the commonwealth of Virginia, the nation and for medicine."
Gerald Pepe, PhD, Professor and Chair of Physiological Sciences and former EVMS Dean, says Dr. Nadler has elevated school's research reputation and brought advanced diabetes care to the region and the state. "There's nobody who has done more for diabetes research and diabetes care over the past 10 years," he says.
Dr. Nadler is Vice Dean for Research, the Mansbach Chair in Internal Medicine and Chair of Internal Medicine. He leads a team of researchers whose discoveries may result in new treatments for the nearly 400 million people worldwide with diabetes and countless others who are pre-diabetic.
Peers around the globe have taken note of Dr. Nadler's research that shows diabetes is an inflammatory disease. He has identified new targets for therapy, a process that has led to more than 10 patents. His research could lead to new treatments to prevent or possibly even reverse type 1 diabetes, which typically strikes in childhood.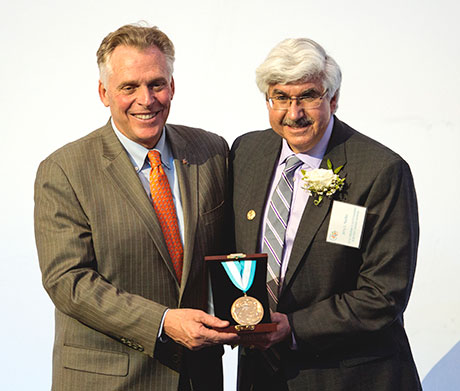 Many of his research efforts involve partnerships. He excels at bringing people together for a common purpose, says Raghu Mirmira, MD, PhD, Director of the Center for Diabetes and Metabolic Disease at Indiana University and a longtime research colleague.
"He has amassed an impressive group of collaborators — a Dream Team — that rally around his mission," says Dr. Mirmira.
Dr. Pepe saw that same quality when he recruited Dr. Nadler. "He has an uncanny ability to work with people and to develop collaborations and multiple, diverse programs."