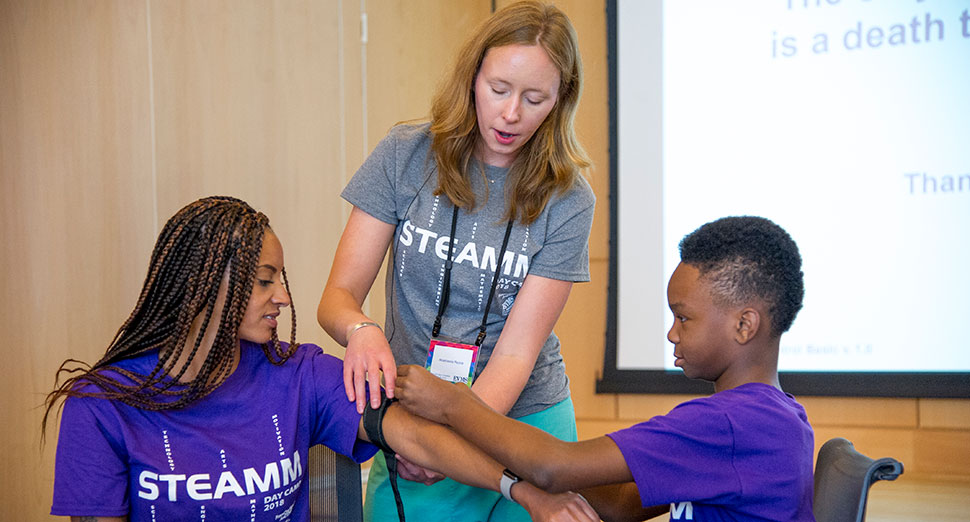 visionQuest
"You can lose half your blood volume in 60 seconds"
Stop the Bleed program teaches bystanders to act when time is of the essence
You're driving home from work when you come upon a bad accident in the roadway ahead. As you rush to help, you spot one victim bleeding profusely.
What do you do? (Hint: calling 911 is only part of the solution.)
Leonard Weireter, MD, can tell you. The retired trauma surgeon has treated thousands of patients over a 30-year career. But he also can tell you that you don't have to be a physician or a medical expert to save a life.
Dr. Weireter, who now serves as Medical Director of the Sentara Center for Simulation and Immersive Learning at EVMS and Professor in the School of Health Professions, has made it his mission to teach the public how to react when they encounter someone who is seriously injured and bleeding. He and a team of EVMS students are making an impact by teaching a free, 20-minute class known as "Stop the Bleed."
If Dr. Weireter has his way, the simple techniques taught in the Stop the Bleed training will become as well-known as the chest compressions taught in CPR classes.
Time is of the essence when bleeding is uncontrolled.
"If you are bleeding significantly, you can lose half your blood volume in 60 seconds," he says. "You lose another half of it in two minutes. You're dead in two and a half minutes."
It's rare that professional help can arrive that quickly. That leaves the lifesaving job to bystanders.
"The technique is simple," Dr. Weireter says. "Once you have assured your own safety and called for help, use your hands and anything available to you and simply lean on the bleeding hard enough to make it stop."
Dr. Weireter was Vice Chair of the American College of Surgeons' Committee on Trauma that developed Stop the Bleed in reaction to the school shooting at Sandy Hook Elementary School in 2012.
"It's something people can do quickly and easily once they realize what to do and that they are not going to hurt the victim," he says. "In fact, they may actually save the victim's life."
Stories on the Vision Quest page reflect ways in which EVMS strives to achieve its vision of being the most community-oriented school of medicine and health professions in the United States.