offCampus
Eugenia Gonzales, Standardized Patient and Fire Eater
Standardized patient knows how to light up a room

On campus, Eugenia Gonzales is a standardized patient and gynecological teaching associate (GTA) who helps train EVMS students by playing the role of a patient. Off campus, she plays a very different role: fire performer.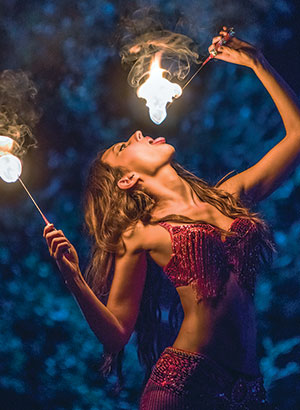 What sparked your interest in being a fire performer, and what is it exactly?
I do fire eating, fire poi, fire hoop and fire fans. I used to work as a magician's assistant in an entertainment company, which opened my eyes to this world. I met a lot of eccentric people that I vibed with who performed with the circus. I became entranced with the fire performers and wanted to learn. So I thought, hey, why not?
How often do you perform?
It depends on when I get booked for a gig. Usually I perform at festivals, corporate events, parties, restaurants and clubs. The winter holiday season is my busiest time.
What do you enjoy most about it?
Performing makes me feel alive, and this is just another outlet of expression for me. I really enjoy entertaining, and I love to see people's reactions. I like to be a part of anything that creates wonder and happiness or an escape from reality. When I choreograph my show, I try to make it so audience members can forget the stress of everyday life and just have fun.
Do you see any connection between fire performing and your work at EVMS?
The reason I like my job at EVMS is because as a standardized patient, I am playing a role. It's essentially acting, which runs along the same lines of what I do as a performer. I am playing a role or a character when I am fire dancing.
What are you most passionate about in your work at EVMS?
I strongly believe in the programs and the opportunities they create for students to practice and learn before going out into the "real world." As a GTA especially, I feel that I am helping teach important information that could possibly save somebody's life one day. So in a way, I feel empowered and that I am doing good in the world. I take a lot of pride in saying that I work for EVMS.
Why did you choose EVMS?
The people I work with are awesome and the program is so on point, how could I not?