from
The
President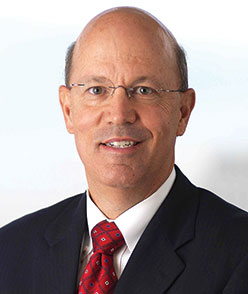 "Of all the forms of inequality, injustice in health care is the most shocking and inhumane," Dr. Martin Luther King Jr. once said.
Having just taken part in the Jan. 21 celebration of Martin Luther King Day, I am certain Dr. King would be alarmed to learn this: Between 1993 and 2014, the rate of black women dying from pregnancy-related causes in the United States jumped 200 percent. In Virginia, black women are 300 percent more likely to die from pregnancy- or childbirth-related causes than white women.
How can that be? This astonishing — and troubling — data moved us to investigate the issue further in our cover feature, where we also look at the various ways EVMS is working to solve this problem.
In this edition of EVMS Magazine, we also profile our highly sought-after Physician Assistant program in honor of its 20th anniversary, explore our Strelitz Diabetes Center in pictures and follow a medical military leader as he deploys his EVMS education around the world.
In addition, we express our profound gratitude to Leah and Richard Waitzer, recently named the 2018 Outstanding Philanthropists by the Association of Fundraising Professionals' Hampton Roads chapter, for their extraordinary generosity. Our new building, set to open in 2020, will be named Waitzer Hall in honor of their foundation's gift, the largest family gift ever made to EVMS.
As we move forward in our capital campaign, we invite you to learn more about helping EVMS continue to deliver on the promise of a healthier Hampton Roads. It is a promise that — with your support — we can fulfill for generations to come.