Waitzer Hall named for largest family gift ever made to EVMS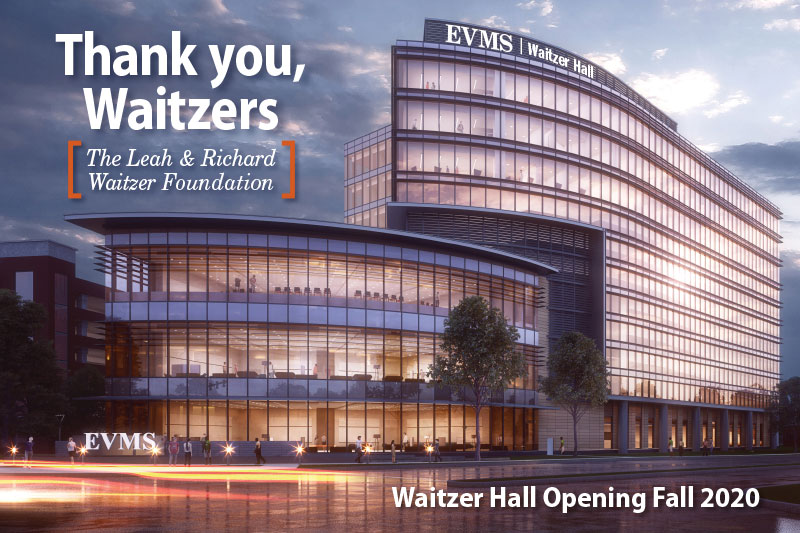 EVMS is pleased to announce that its newest building, slated to open in fall 2020, will be known as Waitzer Hall. The building is named in recognition of a gift to the EVMS capital campaign from the Leah and Richard Waitzer Foundation. It is the largest family gift ever made to EVMS.
Leah and Richard Waitzer, along with their sons, Bradley J. and Edwin S., have been longstanding supporters of EVMS. Through their ongoing philanthropy, they join the school's founders and champions in helping EVMS deliver on the promise of providing national-caliber care right here in Hampton Roads.
"Leah and Richard's gift will change the landscape of our campus and our region's health," says Richard Homan, MD, President and Provost of EVMS and Dean of the School of Medicine. "Waitzer Hall will be more than a building. It is a commitment to recruiting the best faculty and students, to conducting innovative research and to delivering outstanding patient care to those who call Hampton Roads home."
"Since EVMS opened 45 years ago," says Wayne Wilbanks, Chair of the EVMS Foundation Board of Trustees, "school leaders have had a singular focus on what is best for the community. It's inspiring to see the Waitzers share that vision and support it so generously. When the school becomes stronger, its impact on the community grows stronger."
In addition to the foundation gift, Bradley Waitzer, a member of the EVMS Foundation Board of Trustees, has committed $250,000 to the EVMS Glennan Center for Geriatrics and Gerontology; and Edwin Waitzer has committed a personal gift to the capital campaign.
"As a community-based school, EVMS is more reliant than many academic institutions on philanthropic support," says Shirley Baldwin, Co-Chair of the capital campaign and member of the EVMS Foundation Board of Trustees. "We are grateful to the Waitzer Foundation for this wonderful investment in the EVMS vision of being the most community-oriented school of medicine and health professions in the nation."
In 2012, the Waitzers established the Murray Waitzer Endowed Chair for Diabetes Research in memory of Richard Waitzer's father, Murray Waitzer, who had to take daily insulin doses to control his Type 1 diabetes. The gift funds research to help stem the rising tide of diabetes in Hampton Roads.
"I have been very impressed by the people at EVMS, and I know the work they're doing is so worthwhile," says Richard Waitzer, whose grandfather and older brother also had diabetes.
Leah and Richard Waitzer were honored today by the Association of Fundraising Professionals' Hampton Roads Chapter as the 2018 Outstanding Philanthropists at AFP-HR's National Philanthropy Day celebration in Norfolk.
Richard Waitzer is known in the region for real estate development and investment, general contracting, and property management. Leah Waitzer is a founding volunteer of Court Appointed Special Advocates in Virginia Beach. Over the years, the couple have lent their support through board service and philanthropy to numerous Hampton Roads nonprofits, including ACCESS College Foundation, Chrysler Museum of Art, Elizabeth River Project, ForKids, Hampton Roads Community Foundation, Hope House Foundation, Norfolk Academy, Norfolk Forum, United Way of South Hampton Roads, Virginia Arts Festival, Virginia Symphony, Virginia Wesleyan University and WHRO Public Media.
In 2015, they were recognized with the Humanitarian Award from the Virginia Center for Inclusive Communities. The award is presented to individuals who have demonstrated a commitment to the promotion of respect and understanding among people of diverse racial, ethnic and religious backgrounds.
*Mr. Waitzer died Saturday, Jan. 12, 2019, at the age of 86 after a long battle with cancer. Read more about his legacy.