A look at mental health among med students, health professionals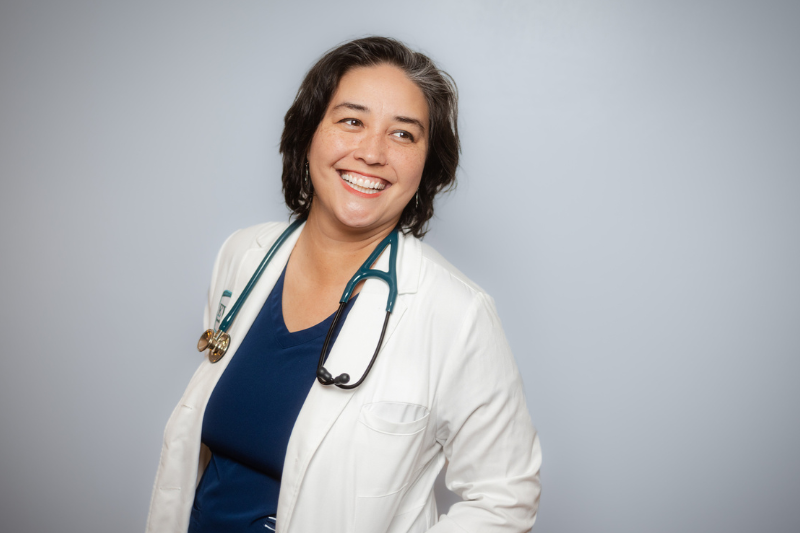 It's a depressing statistic, but one that needs attention.
More than half of all Americans will be diagnosed with a mental illness or disorder at some point in their lifetime. And that's only counting those who are diagnosed, not the millions left untreated.
Everyone is subject to mental illness. No one is immune based on race, gender, religion, sexuality, socioeconomic status — the list goes on.
Fully present and accounted for in the numbers are medical and health professions students, physicians, and anyone learning or working in related fields. In fact, studies show that this demographic is at an increased risk for burnout, depression and other mental health-related issues.
Why the comparative contrast among health professionals? It's multi-dimensional, says Allison Knight, PhD, Assistant Vice Dean of Student Affairs at EVMS and co-editor of "Educator Well-Being in Academic Medicine," a first-of-its-kind book published in 2022 by the American Medical Association.
A huge stressor for medical and health professions students, she says, is debt. Looming higher education costs can push students to pursue higher-paying specialties, even when their hearts may not be fully in the work. Other stressors include insufficient time for self-care, exposure to human suffering, inadequacies of the health care system as well as microaggressions and other forms of bias and discrimination. For many, there's also high anxiety surrounding academic success, benchmark exams and the impact this can have on careers.
"You're constantly being evaluated," says Dr. Knight. "That's something students talk a lot about; pressure to be 'on' all the time and perform all the time."
Impostor syndrome — the fear of inadequacy or being revealed as a fraud — is another issue faced by health professionals and can be particularly acute for those who come from backgrounds that have been historically underrepresented in the field.
"Impostor syndrome can drive motivation but cause burnout and performance impairments," says Diane Holland, MPA, MHRM, Assistant Director of Training and Ombudsperson for Diversity and Inclusion at EVMS. "Underrepresented minorities in medicine often avoid discussing feelings surrounding impostor syndrome, leaving them to suffer in silence. Leaders and colleagues must serve as allies, acknowledge symptomology and provide the necessary support to foster good mental health."
Also impacting the well-being of medical professionals are long work hours, unrealistic workloads, inefficiencies surrounding electronic health records and insurance filings, profound responsibility and lack of autonomy, combined with an alarming loneliness and isolation epidemic recently identified as a public health threat by the U.S. Surgeon General.
There is also a stigma surrounding medical providers and mental health that often prevents individuals from seeking help. Some clinicians have reported a fear of being seen as weak if they seek care. Others have concerns about credentialing, as many states and organizations require medical professionals to report personal mental health treatment when applying for licensure or hospital privileges.
"I think there is a little bit of putting healthcare providers, and particularly physicians, up on a pedestal," says Dr. Knight. "These are the folks that people come to when they're at some of the lowest points in their lives, obviously with great need, scared. And they want the physician to be perfect. I think that starts to carry into their work, like 'I have to take on this persona.'"
Thankfully, a spotlight on mental health in recent years is shifting the conversation.
"One of the great things is that this is starting to be looked at differently," Dr. Knight says. "Recognizing that healthcare workers are human beings with all the same struggles, and more in some cases, depending on what they may be carrying and what they see on a day-to-day basis."
Managing mental health proactively
At EVMS, an Institutional Wellness Committee supports and promotes well-being and professional fulfillment, researching and implementing best practices for the campus community.
"In today's academic and healthcare environment, it is essential that we strive to implement strategies at both the individual and organizational levels to mitigate burnout and promote well-being," says Richard Handel, PhD, Institutional Wellness Officer and Professor of Psychiatry and Behavioral Sciences at EVMS. "Burnout affects much more than personal well-being, as it can also influence the functioning of an entire organization in multiple ways."
The Waldholtz Family Wellness Series, made possible by the Waldholtz Family Wellness Fund, aims to create a campus-wide culture of wellness at EVMS by educating the community on innovative approaches to reducing stress and burnout. The series features guest speakers on various topics, such as mindfulness, diet and lifestyle, kindess, community and belonging.
Other campus efforts have included recognition events and opportunities to connect, including a recent appreciation event at which faculty shared their talents beyond teaching — painting, chalk creations, science fiction writing, jewelry making, crocheting, musical performances and more. Plans are also in motion to create a faculty mentoring and coaching program.
"Mental energy and physical energy, they go together," says Anca Dobrian, PhD, Vice Dean of Faculty Affairs and Professional Development at EVMS, "and if we are in a happy place, we can offer more, we can connect more, and we can do a better job here at work but also in our personal lives."
Faculty, staff and residents have access to many mental health resources as part of their employee benefits. This includes coverage through the Employee Assistance Program (EAP), which offers access to counseling services and a robust library of archived wellness webinars. EVMS also recently added two wellness days annually on top of regular holidays and leave time.
"These are days that are specifically geared towards stress relief and burnout prevention," says Matthew Schenk, MS, Associate Vice President of Human Resources at EVMS. "While one or two days off will not solve all issues, they can still offer our employees a much-needed break to pause, recharge and come back with a fresh new perspective."
EVMS students also have access to a growing set of wellness resources, including access to primary health care and insurance, confidential mental health services, substance abuse support, disability accommodations, an on-campus fitness facility and discounts to local gyms, and the Phoenix Committee, a unique student-led support group. Academic programs and Student Affairs also review policies and procedures for their impact on student well-being.
"Our first and foremost priority is everyone's health and well-being," says Dr. Knight. "We have ways of putting school on hold to make sure that a student is healthy and well, and that we're doing everything we can to support their well-being first using the resources we have on campus. Our goal is to have a community culture in which everyone looks out for each other."

EVMS wellness resources for:
Faculty
Staff
Residents
Students
Community Members