I Didn't Want it to Happen - Sexual Assault Brochure
Brochure for adult survivors of sexual assault.
English and Spanish versions.
Published byVirginia Sexual & Domestic Violence Action Alliance
A pamphlet that thoroughly and plainly describes Virginia's Protective Order process. Includes: What is a Protective Order (P.O.)? Who is eligible to ask for one? Where to request a P.O.? What are the 3 types of P.O.s? What can a P.O. do? How do I ask for an Emergency P.O.? Where do I go to petition for a Family Abuse P.O.? Where do I petition for a (General District Court) Protective Order? Now that I have a P.O., what do I need to know? Also includes information about Protective Orders for teen dating violence, and guidance for the Lesbian/Gay/Bi-Sexual/Transgender (LGBT) Community. 16 pages. Published July 2011.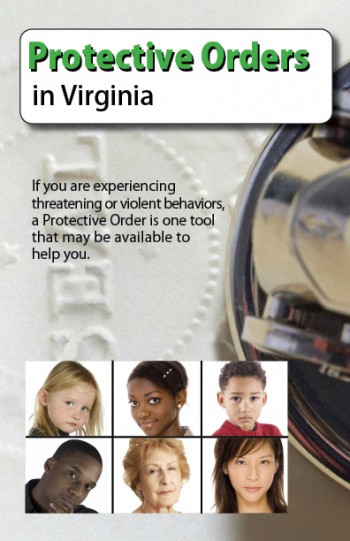 A palm card for survivors of sexual assault that provides information on P.E.R.K. exams, including "What is a P.E.R.K.?", "Do I have to have a P.E.R.K.?", "Who will pay for the exam?", "What do I need to know if I am considering having a P.E.R.K.?"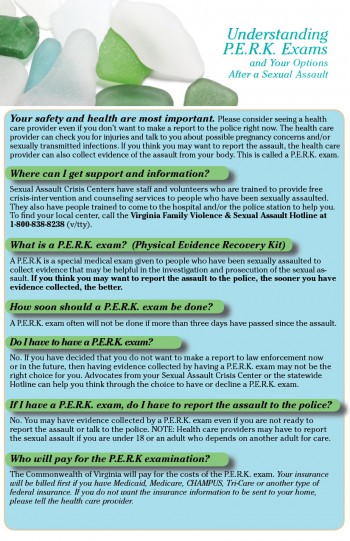 Victim and Witness Rights Act Summary‌‌
This brochure provides information about the rights and responsibilities of crime victims and witnesses under the 'Crime Victim and Witness Rights Act' (sometimes called the Victims Bill of Rights) and related laws.
Published by the Department of Criminal Justice Services.
Domestic Abuse Resource Guide
This brochure from the City of Norfolk Department of Police provides information and resources for people dealing with domestic abuse.