from
The
President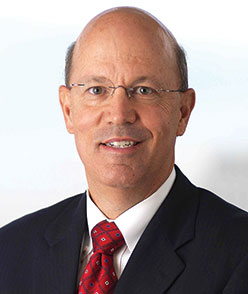 From start to finish, producing an issue of EVMS Magazine takes about four months. For example, we began working on stories for this issue in January.
Before I invite you to read those stories, let me address the elephant in the room: the news reports about the racist photo published in a student yearbook 35 years ago. In considering how to address this in our magazine, we had to make a decision. Should we scramble to add an article about this matter in the next issue — the one you are reading now — or should we wait until we receive the reports from the Community Advisory Board and McGuire Woods law firm, which were engaged in March to investigate diversity and inclusion at EVMS?
We opted to wait for this reason: I believe this aspect of our campus culture is simply too important to rush a story into the magazine. Diversity and inclusion are important to us, and we will not only continue our existing efforts but also tackle any additional issues identified.
Until then, I invite you to read about the good work being done by our faculty, staff, residents and students. Learn how some of our faculty members are focused on how palliative medicine, a specialty created in 2006, can improve the quality of life for anyone with a serious illness. And we profile an alumna whose EVMS education led her to a residency at the Mayo Clinic and a lead-author credit on an acclaimed medical-reference book.
On May 18, a brand-new class of alumni — more than 400 students in the EVMS Class of 2019 — is set to cross the stage and step into their new lives. Wherever their journeys take them, we hope they, too, will benefit from their time here. On behalf of everyone at EVMS, I offer our newest graduates best wishes for meaningful and rewarding careers.