He Wrote the Book (Twice)
Father of acute-care surgery sees equitable healthcare as a right
L.D. Britt, MD, MPH, the Edward J. Brickhouse Chair in Surgery, the Henry Ford Professor of Surgery, and Professor and Chair of Surgery, loves music. He has over 20,000 songs in his collection.
"I could almost be a producer," he says.
When he begins a surgery, he plays classical music — Vivaldi's a favorite. As a procedure progresses, the operating-room soundtrack switches to jazz, perhaps Chris Botti. He usually closes with Motown: Aretha or the Temptations.
But just like any musical recording, Dr. Britt knows great things come not from the work of one, but from many.
Dr. Britt is known as the founder of the acute-care-surgery specialty. In fact, he literally wrote the book on it — the second edition of Acute Care Surgery, with co-editors Andrew Peitzman, MD, from University of Pittsburgh; Phillip Barie, MD, from New York Presbyterian Hospital/Weill Cornell Medical Center; and Jerry Jurkovich, MD, from University of California, Davis – Sacramento.
He's quick to note he's part of a group.
"There are many fingerprints on the evolution of acute-care surgery," he says. "It was the right thing to do, and we had a good team."
Acute-care surgery, a specialty that's only 15 years old, blends three disciplines: trauma, critical care and emergency surgery. It covers conditions that present in the emergency room and warrant general surgery. This could include appendicitis, gastrointestinal perforation, abscesses, vascular emergencies and kidney failure.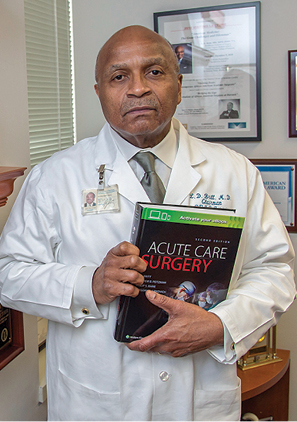 Collaboration is a key feature of acute-care surgery, says David Hoyt, MD, Executive Director of the American College of Surgeons (ACS). "We are moving toward organized teams of care, focused on specific diseases where we can measure performance and outcomes. It puts the patient first."
Another goal, Dr. Hoyt explains, is to develop a verification program for acute-care surgery at a hospital, similar to how trauma centers are ranked, such as Level 1, 2 or 3.
Dr. Hoyt has known Dr. Britt for about 25 years. "We have worked together closely on many programs," he says, "including the Committee on Trauma at ACS. Dr. Britt is an icon, a gentleman and a scholar."
The two are currently partnering on a $2.5 million National Institutes of Health grant to address disparities in healthcare, a passion of Dr. Britt's.
"Healthcare disparity is the most challenging disparity we have," Dr. Britt says. "We need to pay attention to it, because it's not getting better. My goal has always been to level the playing field, to give people the same status of healthcare everywhere."
"Healthcare disparity is the most challenging disparity we have."
---
Creating the acute-care-surgery specialty, with the goal of better health for patients no matter where they're located. This fits into Dr. Britt's goal of improved care for everyone, everywhere. He has pursued this goal since he arrived at EVMS, including spending every Tuesday for 25 years providing pro bono care to people in his hometown of Suffolk.
"It is a right for people to have good health," he explains.
When Judith Verbel of Fredericksburg was diagnosed with breast cancer, Dr. Britt provided thoughtful advice and care.
"He was kind and considerate," she says. "He made me feel comfortable. When I was given my choices, he told my husband and me, 'If you were my mother or sister, these are the decisions I would recommend.' And we followed his advice, because if we hadn't, I wouldn't have survived."
Dr. Britt credits his successful patient outcomes to hard work and has no intention of slowing down. He still awakens at 3:19 a.m. Though his schedule remains tightly packed, he likes to relax by reading. He prefers nonfiction, especially biographies. He likes that they showcase what happens when things don't go right. "People are not perfect," he says. "They always have problems, but you see how they work through imperfections."
And he sees imperfections when it comes to his goal of making the best possible care accessible to everyone. But acute-care surgery is a crucial part of improving that situation. "Acute-care surgery is based on what's best for the patient," he says. "It is gratifying. And it is needed."