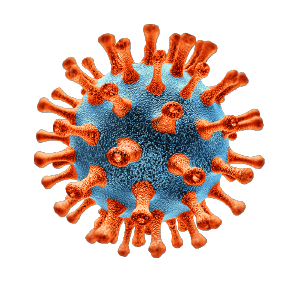 EVMS confronts COVID-19
CAN EVMS KEEP EDUCATING STUDENTS, CARING FOR PATIENTS AND CONDUCTING VITAL RESEARCH — WHILE KEEPING EVERYONE SAFE?
That was the question last March when the COVID-19 pandemic engulfed the nation.
Our world changed. Only a few essential personnel worked on campus. Research labs ramped down. Classes and patient visits moved online.
But that didn't dampen the collegial and collaborative spirit EVMS is known for. Working together as a community — whether in real life or virtually — is in our DNA. It is, after all, what gave birth to EVMS more than four decades ago.
So it was no surprise when faculty, staff, residents and students rose to the pandemic challenge.
Medical teams trained frequently with COVID-19 experts. Faculty members used technology in creative ways. Campus leaders met often to share news and decide on the right steps to take. Educators and researchers consulted with colleagues at peer schools to develop best practices.
And some in the EVMS community willingly risked their own health for the greater good.
Here are their stories.