EVMS training preps surgeon to lead pandemic response
MARCH 1 MARKED THE FIRST CONFIRMED DEATH FROM COVID‑19 IN THE UNITED STATES. IT WAS ALSO DR. PHILLIP CHANG'S FIRST DAY AT HIS NEW JOB.
As the newly appointed Vice President and Chief Medical Officer for University Hospitals Cleveland Medical Center, Phillip Chang, MD (MD '99), was responsible for activating and leading the center's incident response command in the face of the pandemic.
"Dr. Chang has been instrumental in maintaining our surge readiness through careful planning and collaboration with teams throughout the system,"says Daniel Simon, MD Chief Clinical and Scientific Officer and President of the UH Cleveland Medical Center
During the center's reopening transition, Dr. Chang is leading major initiatives, including high-reliability medicine, quality and safety, patient advocacy, physician relations, and utilization and case management for the flagship academic medical center.
"It's probably the hardest but also most rewarding time to start a new position," Dr. Chang says. "The work we do is vital at a time when people are looking to our systems for guidance and care."
Dr. Chang earned a bachelor's degree in mathematics from the College of William & Mary, where he also participated in the EVMS early acceptance program. His residency and fellowship took him to the University of Kentucky HealthCare in Lexington, where he joined the faculty. Over the next 13 years, he rose to the rank of Associate Professor of Surgery and the role of Chief of the Section of Trauma and Critical Care, before being named System Chief Medical Officer.
Dr. Chang earned his MBA from the University of Kentucky Gatton College of Economics and Business in Lexington. In 2019, Becker's Healthcare named him one of 100 CMOs to Know.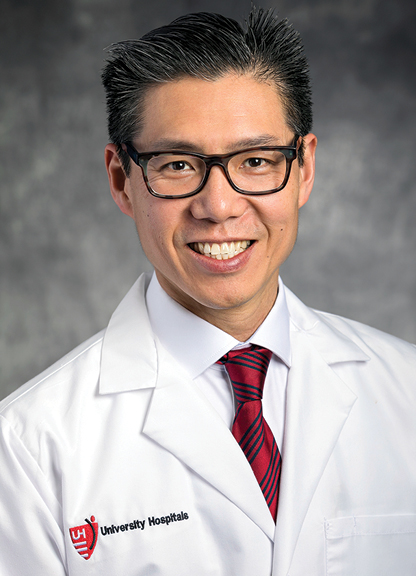 He credits much of his success in medicine, leadership and teaching to his time at EVMS.
"The reason I became a surgeon, the reason I think systemically, it's the experience I had at EVMS that shaped me," Dr. Chang says. Especially the influence of L.D. Britt, MD, MPH, Professor and Chair of Surgery.
"When I entered medical school, I thought I was going to be a pediatrician," Dr. Chang says. "But my surgery elective in Dr. Britt's trauma and acute-care service was a formative experience and opened my eyes to who I wanted to be as a doctor."
No other person made as large an impact on his career as Dr. Britt.
"He's phenomenal," Dr. Chang says. "He would rapid-fire ask you questions until you simply couldn't answer anymore, and then he'd tell you to go and look it up, come back and present it to him. I learned so much from him."
So much, in fact, that Dr. Chang is now a board-certified critical care and trauma surgeon. His "true love" is acute-care surgery — a specialty developed by Dr. Britt — and he has a special interest in complex abdominal wall reconstruction.
The reason I became a surgeon, the reason I think systemically, it's the experience I had at EVMS that shaped me.
Phillip Chang, MD
Dr. Chang also models his teaching style with surgery residents after his mentor. "It's hard to describe," he says, "but it's almost magical to have that moment when you know you can back off and let the residents show their strengths. Making sure they are safe surgeons when they finish the program has been incredibly rewarding."
While he's not currently working directly with students, he says his desire to impart knowledge to the next generation of health care providers still drives him — especially in a time when there is so much to learn due to the COVID‑19 pandemic.
"It's a difficult time, but it is also a rewarding time because when medical professions are stressed, we see great advances," Dr. Chang says.
"Blood banks and ambulances were created out of a time of war. During the COVID‑19 pandemic, we are seeing the incredible widespread adoption of telehealth and remote monitoring. These extensions of healthcare are as important as physicians.
"It really is an amazing time to be in medicine."