Dr. Britt honored with the ACS Lifetime Achievement Award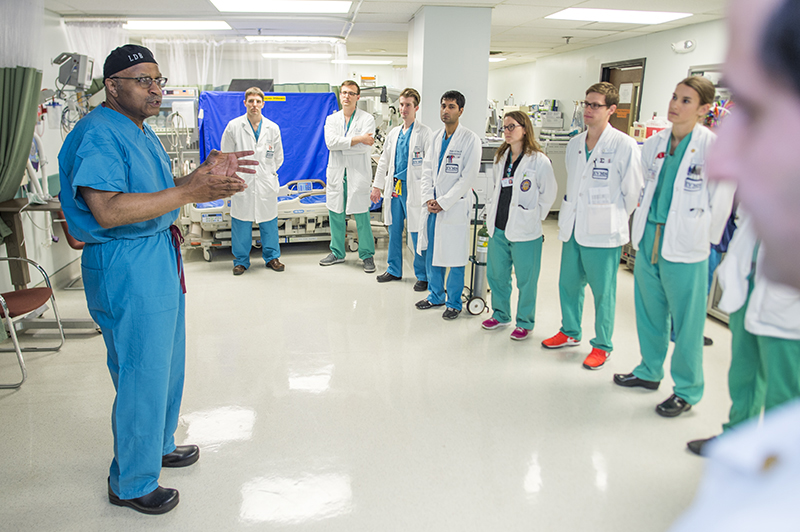 Consider him more than the man of the hour. As of Sunday, L.D. Britt, MD, MPH, is the man of a lifetime — just ask the esteemed American College of Surgeons (ACS).
Dr. Britt was presented with the ACS Lifetime Achievement Award during a virtual convocation ceremony of the ACS Annual Clinical Congress — one of the largest educational meetings of surgeons in the world. And while the event had to be held virtually, there was not a lack of applause and admiration for the longtime surgeon and educator.
"It's exciting and gratifying to see Dr. Britt honored with this distinguished award celebrating his remarkable career as a surgical educator, surgeon scientist, trauma surgeon and pioneer in the field of acute care surgery," J. Wayne Meredith, MD, President of the ACS, says. "His life's work at EVMS, service to ACS and contributions to the surgical profession all epitomize his extraordinary legacy. He is simply one of the greatest men I know."
This is only the fifth such award presented by the ACS in its 108-year history. Dr. Britt is the first African-American surgeon and the only EVMS faculty member to be awarded this distinction.
"Dr. Britt is a trailblazer in academic medicine, research and patient care," Alfred Abuhamad, MD, EVMS Interim President, Provost and Dean of the School of Medicine says. "He has devoted his entire professional life to addressing healthcare disparities and to delivering unparalleled patient care. Dr. Britt also demonstrates the highest level of dedication to fostering excellence in training the physicians of tomorrow."
Sentara Healthcare President and CEO Howard Kern agreed.
"Dr. Britt is highly respected and world-renowned for his leadership and contributions to burn/trauma medicine and surgery. His passion and long-standing dedication to EVMS, Sentara Norfolk General Hospital and the Hampton Roads community have been significant and his impact is beyond measure," Mr. Kern says. "A rare lifetime achievement award from the American College of Surgeons is fitting recognition of the countless lives Dr. Britt has saved and his service over so many years."
Dr. Britt is the Edward J. Brickhouse Chair in Surgery, the Henry Ford Professor of Surgery, Vice Dean for Clinical Affairs and Professor and Chair of EVMS Surgery, and he has served in numerous leadership roles at EVMS and nationally. He is a past Director of the American Board of Surgery, a past Chair of the Board of Regents of the American College of Surgeons and past President of the American College of Surgeons. In 2016, Dr. Britt became the first EVMS physician to be named to the National Academy of Medicine.
He has been the principal investigator and co-investigator of several national research initiatives, including a $2.5 million national study funded by the National Institutes of Health to address healthcare disparities.
Among his numerous awards and recognitions, Dr. Britt has received the Association of American Medical College's Robert J. Glaser Distinguished Teaching Award, the highest national teaching honor in medicine, and the Distinguished Educator Award, which is presented annually by the Association of Surgical Education to an individual for both lifetime achievement and the consideration of their peers to be a true master educator.
He has contributed 300 scientific, peer-reviewed publications, authored three textbooks, and serves on the editorial boards for the Annals of Surgery; Archives of Surgery; World Journal of Surgery; Journal of the American College of Surgeons; Journal of Trauma, Shock, and Critical Care; Journal of Surgical Education; and the American Surgeon. Dr. Britt is associate editor of the American Journal of Surgery and a reviewer for the New England Journal of Medicine.
The Atlanta Post named Dr. Britt as one of the top 21 Black physicians in America, and Ebony magazine listed him as one of the nation's most influential African Americans.

Dr. Britt is a graduate of Harvard Medical School and Harvard School of Public Health. He completed his surgical residency at University Hospital and Cook County Hospital at the University of Illinois School of Medicine and his fellowship training at the Maryland Institute for Emergency Medical Services, University of Maryland, Baltimore, and Washington University School of Medicine, St. Louis.

He joined the EVMS faculty in 1986 and was one of the founders of the Level 1 Trauma Center at Sentara Norfolk General Hospital. He has served as Chair of EVMS Surgery since 1994.
"I am so deeply humbled to be honored by the American College of Surgeons with the Lifetime Achievement Award and in knowing I am joining only four surgeons ever to receive this recognition," Dr. Britt says. "It has been an honor to be at EVMS my entire career, and I am hopeful this recognition will further shine a spotlight on EVMS and the great things happening here."