Luis J. Borda, MD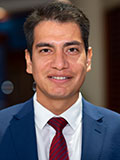 Hometown: Chimbote, Peru
Why EVMS?: I fell in love of the program during my interview due to how academic it is. The sense of camaraderie among residents was priceless. The leadership department made me feel how supportive they are towards their residents. I can totally say that EVMS is a hidden gem.
Hobbies: Soccer, half-marathons, OrangeTheory fitness, biking, and dancing.
Areas of Interest: Wound healing, Seborrheic Dermatitis, and Epidemiology (Dermatology).
Future Goals: Full-time faculty in Dermatology and Wound healing fellowship
Residency: Dermatology