Joshua M. Sill, MD, FACP, FCCP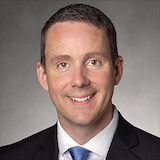 Associate Professor
Internal Medicine
Williams Hall
Dr. Sill joined the EVMS after 11 years active duty with the United States Air Force, where he served overseas arranging for medical evacuation of critically ill soldiers and stateside where he cared for pilots with pulmonary or sleep problems, taught students and residents, and took on a number of administrative leadership roles for the Air Force. Dr. Sill's contributions to the USAF were recognized with a number of medals including the Meritorious Service Medal, Gold Medal for National Defense (France), Joint Service Commendation Medal, and NATO Medal. His capacity for excellence continues as he is one of a small number of physicians who maintain board certification in four internal medicine disciplines while he also serves as Chief of EVMS Pulmonary Medicine, Medical Director of the Sentara Norfolk General Hospital PFT lab, Fellowship Director, and Associate Director of the Cystic Fibrosis Center at Children's Hospital of The King's Daughters.
Dr. Sill provides outpatient and inpatient pulmonary consultations, outpatient care at the CHKD Cystic Fibrosis Clinic, sleep medicine outpatient consultations, and he provides care regularly in the Sentara Norfolk General ICU, where he supervises and teaches residents and student physicians.
Dr. Sill has a number of articles and case reports in major medical journals. He is often invited to speak on aerospace medicine and pulmonary topics regionally and throughout the world including Canada, China, and Germany.
Dr. Sill is routinely elected by his physician peers to Costal Virginia Magazine's Top Doctors in Pulmonary Medicine and in 2015 he received the Inside Business Journal's Top 40 Under 40 Leadership Award for innovation, achievement in his profession and community service as an active participant in his church community outreach program.

Additional Certifications
Associate Professor of Medicine
Chief of Pulmonary and Critical Care Medicine
Pulmonary and Critical Care Fellowship Program Director
Endowed Chair for Academic Leadership Advancement in Internal Medicine
Undergraduate Degree
BS in Molecular Biology, 1998 - Grove City College, Grove City, Pennsylvania
Medical Education
MD in Medicine, 2002 - University of Texas Medical Branch, Galveston, Texas
Residency
Internal Medicine, 2005 - David Grant Medical Center, Travis AFB, California
Fellowship
Pulmonary/Critical Care/Sleep Fellowship, 2008 - San Antonio Uniformed Services Health Education Consortium, San Antonio, Lackland AFB, Texas
Board Certifications
Internal Medicine (ABIM) - 2005-2015
Pulmonary Medicine (ABIM) - 2007-2017
Critical Care Medicine (ABIM) - 2008-2018
Sleep Medicine (AASM) - 2013
Research Interests
Aerospace and high altitude medicine
Obesity-hypoventilation syndrome
Cardiopulmonary exercise testing and the evaluation of unexplained dyspnea
Evaluation and treatment of vocal cord dysfunction
Specialties
Primary specialty: Pulmonology
Secondary specialty: Sleep Medicine
Additional Certifications
Associate Professor of Medicine
Chief of Pulmonary and Critical Care Medicine
Pulmonary and Critical Care Fellowship Program Director
Endowed Chair for Academic Leadership Advancement in Internal Medicine
Undergraduate Degree
BS in Molecular Biology, 1998 - Grove City College, Grove City, Pennsylvania
Medical Education
MD in Medicine, 2002 - University of Texas Medical Branch, Galveston, Texas
Residency
Internal Medicine, 2005 - David Grant Medical Center, Travis AFB, California
Fellowship
Pulmonary/Critical Care/Sleep Fellowship, 2008 - San Antonio Uniformed Services Health Education Consortium, San Antonio, Lackland AFB, Texas
Board Certifications
Internal Medicine (ABIM) - 2005-2015
Pulmonary Medicine (ABIM) - 2007-2017
Critical Care Medicine (ABIM) - 2008-2018
Sleep Medicine (AASM) - 2013
Research Interests
Aerospace and high altitude medicine
Obesity-hypoventilation syndrome
Cardiopulmonary exercise testing and the evaluation of unexplained dyspnea
Evaluation and treatment of vocal cord dysfunction
Specialties
Primary specialty: Pulmonology
Secondary specialty: Sleep Medicine
Submit a Profile Update