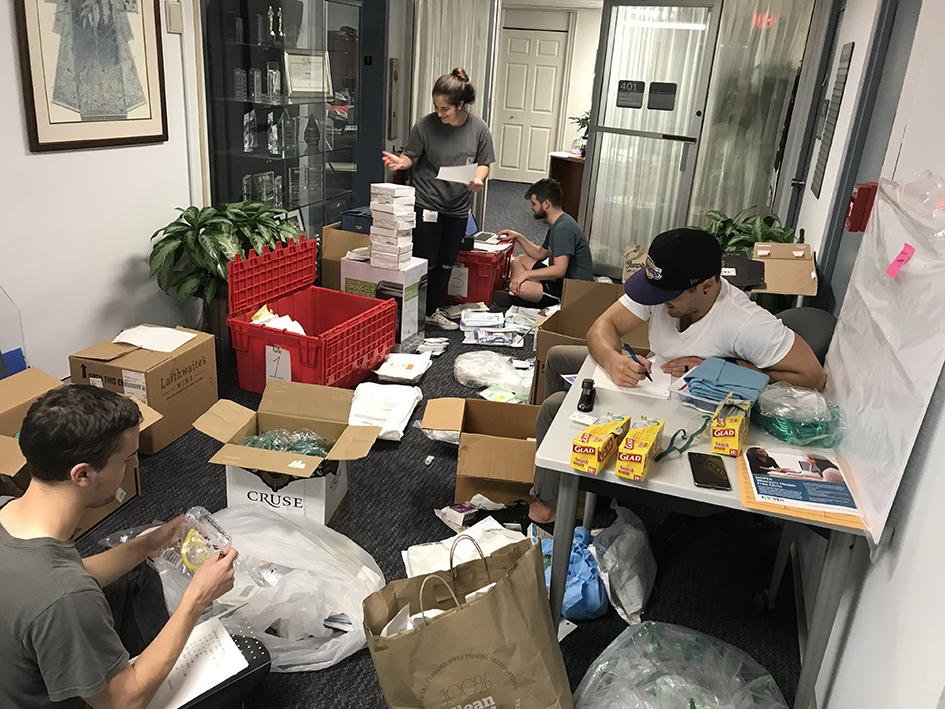 visionQuest
"This was something we could do right here and right now"
Students send aid to those in need
In a small room, students cautiously navigate their way around piles of gauze, surgical tubing, IVs and other medical supplies. Their classes and clinical work are done for the day, but they're taking inventory and organizing supplies. They spent months gathering the items for REMEDY (Recycled Medical Equipment for the Developing World) and Nancy's Community Closet. Today, the supplies are bound for a new home.
During Hurricane Maria last fall, Puerto Rico was heavily damaged, and many hospitals struggled to care for their patients. After seeing pictures of the devastation, the students knew exactly where they wanted to send the first shipment.
They sent more than 230 pounds of medical supplies to a children's hospital in Puerto Rico.
"A lot of the time it feels, as students, we're still so far away from being able to help people and change the world," says Kerri Kraft, MD Class of 2020. "But this was something we could do right here and right now."
Alexandra Leader, MD, MPH, Director of Global Health, Assistant Professor of Pediatrics and group adviser, saw the project as a natural fit. "This is global health in action," Dr. Leader says, "working together to responsibly and sustainably address health inequities everywhere."
The EVMS chapter of REMEDY, like the national organization, works with local and international partners to bring medical supplies recovered from area hospitals and the community to meet the specific needs of clinics and hospitals all over the world.
Nancy's Community Closet was named in honor of the late Nancy Kelly, a member of the MD Class of 2019 before she was killed in a car accident. Because Ms. Kelly was a beloved environmental advocate, her namesake group is committed to recovering new and durable medical supplies for redistribution to patients in need within our local community.
Moving forward, student leaders are working to expand partnerships with area hospitals. They also are creating an assessment to determine what supplies are needed at the international clinics EVMS collaborates with.
Dr. Leader hopes this experience will have a lasting impact on the students. "This is one of the many ways in which our perspective as healthcare providers becomes more inclusive, the far reaches of the world feel closer and our global community more tightly knit."
Stories on the Vision Quest page reflect ways in which EVMS strives to achieve its vision of being the most community-oriented school of medicine and health professions in the United States.