Your Support
Family Ties
Middleton scholar inspired by beloved grandmother to pursue medicine
Growing up, Jason Bard accompanied his grandmother to free health clinics to interpret for her, as well as other patients from their community. His grandmother, who was from China, didn't speak English and didn't have health insurance.
"That really opened my eyes to experiences that immigrants can face in the U.S. health system," says Mr. Bard, a first-year medical student and this year's recipient of the full-tuition Dorothy M. Middleton Memorial Scholarship.
Mr. Bard, who grew up in Lorton, credits his beloved grandmother as one of the inspirations behind his desire to study medicine.
He also says he was shaped by his experiences with the deaf community — both of his parents are deaf — and as an LGBTQ+ advocate.
"I've done a lot of mentoring," he says. "I've had friends who were kicked out of their homes. It's important to have safe environments to discuss those concerns."
The Middleton scholarship is awarded annually to an incoming student who lives in Virginia. It was funded by an endowment bequeathed by its late namesake, a businesswoman who owned and lived in an apartment building within walking distance of EVMS.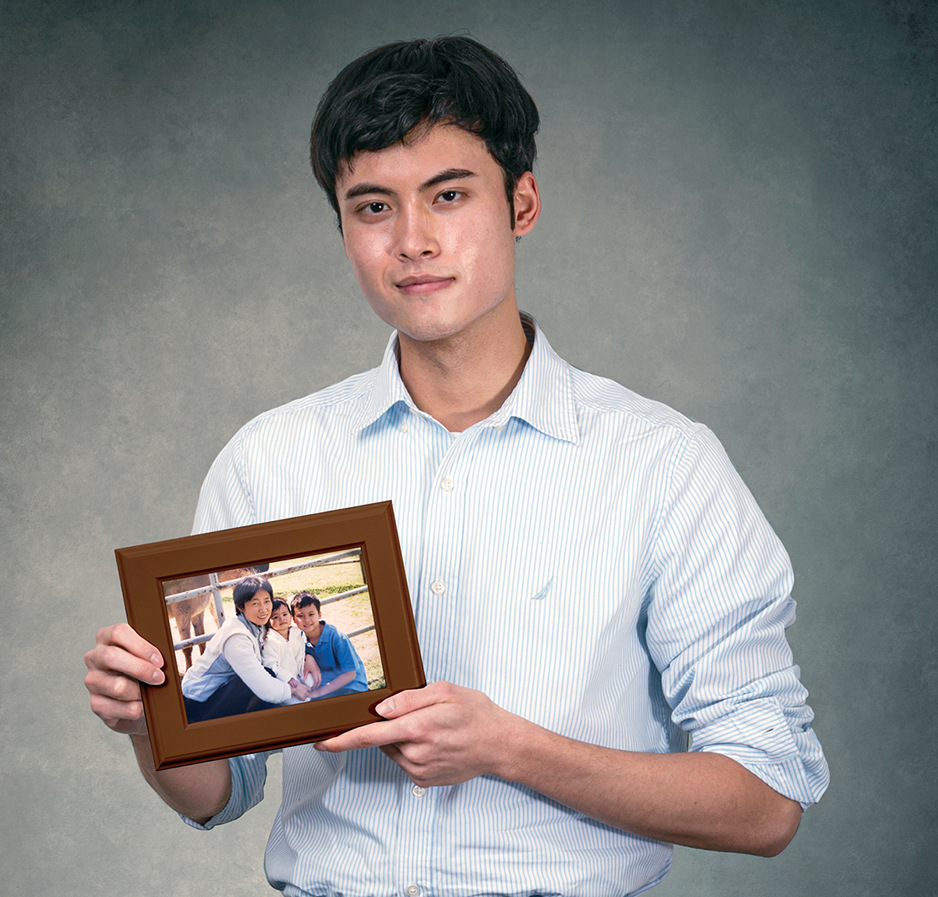 Mrs. Middleton rented rooms in the building to medical students and "became a little bit of a den mother," recalls Claus Ihlemann, a close friend. He says she appreciated the students and the doctors who cared for her son when he was ill. Vernon "Buzzie" Middleton, who passed away, was Mr. Ihlemann's life partner and business associate.
For Mrs. Middleton, "There was probably nothing more meaningful to do than to help educate doctors," Mr. Ihlemann says.
Mr. Bard says receiving the scholarship alleviated his financial burdens and gave him the confidence that he can achieve anything to which he sets his mind.
"I am so thankful," Mr. Bard says. "It [the scholarship] really allows me to focus on why I entered medicine in the first place and to carry that intent and determination into my future career without having to worry about what I'm getting back financially or how I'll be able to pay off student loans. That will really allow me to achieve what I set out to achieve."
Mr. Bard has carried his early passion for helping people like his grandmother through college and beyond. While earning a psychology degree at the College of William & Mary, where he graduated magna cum laude in 2020, he worked as a counselor, assisting people who didn't have health insurance.
The first language he learned was American Sign Language, which he now teaches to children. He also speaks Mandarin, Shanghainese and Japanese in addition to English.
Mr. Bard is keeping his career path options open but is interested in psychiatry. He wants to practice in an area where medical services are lacking, as well as help reshape healthcare.
"Regardless of where I go," Mr. Bard says, "I want to make sure to donate some of my time to advocate and help out."
DOROTHY M. MIDDLETON MEMORIAL SCHOLARSHIP
The Middleton Scholarship, first awarded in 2011, is funded by an endowment bequeathed by the late Dorothy M. Middleton of Norfolk, and was EVMS' first full in-state tuition scholarship. It is awarded annually to one EVMS medical student from Virginia, based on academic excellence and financial need.
Interested in how you can support scholarships at EVMS? To invest in the next generation of healthcare professionals, please contact EVMS Development at 757.965.8500 or visit evms.edu/giving.
Read the Print
The award-winning EVMS Magazine is published three to four times a year. Subscribe to be notified when the next digital issue is published and/or to receive complimentary copies of the print magazine in the mail.
Subscribe