SOMETHING wasn't right.
Jay Alterman knew what he wanted to say — felt it at his core — but the correct words eluded him. The retired textile engineer abruptly halted mid-sentence as his mind searched without success.
Simple words sat at the edge of his tongue but seemingly out of reach. The harder he grasped for them, the more frustrated he became.
"Just forget it," Mr. Alterman would say, giving up in frustration.
It was the first sign of things to come.
"He started needing a list at the store or he'd forget things, but at first I thought whose husband doesn't," Caroline Alterman says.
It was the little things. Forgetting to pay credit card bills. Not remembering how to log in to check accounts. Something was off.
A career nurse, Mrs. Alterman had an idea of what was wrong. She and her husband came to EVMS because of the broad spectrum of specialists available.
An MRI confirmed her hunch. Mr. Alterman has early-stage Alzheimer's disease.
While EVMS offered great services, the overall community was lacking.
"I had to be smart enough to know what he needed, what questions to ask. But I had the benefit of having a nursing background and even then, it's a maze," Mrs. Alterman says. "People shouldn't have to shop around to get help. How do they know what to do?"
One day, the Altermans' experience may be the exception. Thanks to the generosity of a donor couple, a light is at the end of the tunnel for people across Hampton Roads.
Neurodegenerative disorders occur when nerve cells in the brain or the peripheral nervous system gradually lose function and ultimately die. Alzheimer's disease and Parkinson's disease are the most common neurodegenerative diseases though there are a myriad of others.
While treatment can sometimes relieve a few of the physical or mental symptoms associated with these diseases, currently there is no way to reverse the damage already done, to slow the disease progression or to cure it.
The reality is this: With people living longer, an increased number will be affected by neurodegenerative diseases in the years to come, says Hamid R. Okhravi, MD, Director of the Memory Consultation Clinic at the EVMS Glennan Center for Geriatrics and Gerontology.
This means an Alzheimer's or Parkinson's diagnosis is a life sentence for an ever-increasing number of Americans.
The numbers paint a grim picture should the trends for neurodegenerative diseases continue unchecked.
Nearly 1 million Americans have Parkinson's disease, and about 60,000 new cases are diagnosed each year. According to the Parkinson's Foundation, the combined direct and indirect cost of Parkinson's in the U.S. — treatment, social security payments and lost income — is nearly $52 billion per year.
Yet, the figures for Alzheimer's disease and dementia are even more stark.
According to the Alzheimer's Association, Alzheimer's and other dementias cost the U.S. $305 billion in 2020. The organization estimates that by 2050, these costs could reach $1.1 trillion.
That's because more than 5 million Americans are currently living with Alzheimer's disease.
One in three seniors will die from it.
Here in Hampton Roads, roughly 40,000 people are living with Alzheimer's disease and about 4,000 are living with Parkinson's disease.
It's a tsunami of patients, Dr. Okhravi says, for a region where the needs for early and accurate diagnosis, adequate care and support are largely unmet.
As with most diseases, the keys to effective treatment are early identification and intervention. Too often, those with neurodegenerative diseases go un-diagnosed for years after their initial symptoms.
By the time many patients arrive at the Glennan Center and are seen in the center's Memory clinic, Dr. Okhravi says they have sometimes gone years with suboptimal care.
"Too often we are seeing patients who are in advanced stages, showing seven to 10 years of memory problems," he says, "but assessments haven't been done, a treatment plan hasn't been implemented, and the family members who have found themselves in the role of caregiver aren't adequately prepared for the challenges they are facing."
You can't look at the patient in isolation because they aren't the only one who has to learn how to deal with the disease. It's the entire care unit that has to learn to navigate that diagnosis and all that comes with it.
Marissa Galicia-Castillo, MD, MSEd
Typically, the problem isn't a lack of local expertise, but rather the absence of a way to know which experts you need and how to locate them.
"In our community we have wonderful resources, but they aren't connected. So when someone does get diagnosed with a neurodegenerative disease, there isn't always a clear answer as to what comes next," says Marissa Galicia-Castillo, MD, MSEd (MD '97, Internal Medicine Residency '00), Director of the Glennan Center.
When a child is ill, a parent is an integral part of the care team. The same principle is true for those with neurodegenerative diseases — you aren't just treating a patient, Dr. Galicia-Castillo says.
"You can't look at the patient in isolation because they aren't the only one who has to learn how to deal with the disease," she says. "It's the entire care unit that has to learn to navigate that diagnosis and all that comes with it."
That was certainly true for well-known Hampton Roads real estate developer Lawrence J. Goldrich.
When Mr. Goldrich was diagnosed with Parkinson's disease, he understood that it would be life changing for both he and his wife Janice. Together, they set out to find a network of local resources for care and support. What they found was disheartening.
"Larry's personal struggle with Parkinson's disease forced us to realize that the facilities available for treatment and education were limited, adding to the frustration of simply living with the disease," Mrs. Goldrich says.
Neurologists. Geriatricians. Psychologists. Physical, occupational and speech therapists. Social workers. Caregiver support groups.
Knowing which resources to tap into and when. Trying not to get overlooked or lost in the wait time.
All pieces of a highly complex care puzzle with no roadmap in place.
Never one to sit idly by and watch others struggle, Mr. Goldrich decided he needed to take action to help those with neurodegenerative diseases in Hampton Roads on their journey from diagnosis to care.
He wanted to provide more than just a roadmap. He wanted to centralize the entire process.
He and his wife decided that establishing an institute at EVMS with expertise and resources in the field of neurodegenerative diseases was the answer.
"We strongly felt that the need for such an institute existed, that it could truly make a difference in patients' lives; and that if we could lend our support in establishing such a program, now was the right time to do so," Mr. and Mrs. Goldrich say.
Their $15 million gift — the largest in EVMS' 47-year-history — is funding the establishment of the EVMS Lawrence J. Goldrich Institute for Integrated NeuroHealth. The institute will provide comprehensive, multidisciplinary care for patients suffering from neurodegenerative disorders, such as Parkinson's and Alzheimer's diseases. It also will provide support systems for patients and their families, improve access to new drug therapies and clinical trials, and accelerate research that may lead to better treatment and possible cures.
"Helping people live as well as they can when they have these diseases is so important, and bringing all the resources together into a one-stop shop approach will help tremendously," Dr. Okhravi says. "This indeed provides a pragmatic strategy to deliver integrated care to patients and their care partners and reduces the impact of disease on patients and families."
Care partners like Mrs. Alterman.
"To have an institute like this will be a lifeline for so many," she says. "Having experts who have the experience, the knowledge with Parkinson's and Alzheimer's and the right connections is so important."
In addition to providing high-quality patient care, physician-scientists at the Goldrich Institute will focus their work on identifying ways to improve diagnostics and therapeutics for patients. EVMS students and residents will also have opportunities to learn from experts in neurodegenerative diseases.
For Mr. Alterman, it may also mean that as his disease progresses, he will have more opportunities to participate in clinical trials and get the care and support he needs right here at home.
For now, he must consider making the trip to Richmond to take part in an upcoming Alzheimer's study.
"It helps me to know that if I must have this disease, I can help people learn from it and help others in some small way," Mr. Alterman says.
For Mr. Alterman, life is still pretty ordinary — or at least about as ordinary as anyone else's during the COVID-19 pandemic. He still drives, still reads fervently and still video chats with his grandchildren.
Speech therapy helped dramatically with his word-finding problems, and medication helps him cope with depression.
He has a clear understanding of what will eventually come, but mostly, mostly he has hope.
"I want people to know that what I was and am going through is not great, but there is a light in the tunnel," Mr. Alterman says. "There is a way to learn to move forward, a way of making things better. It might be that I will never be sharp again, but I can feel better about myself, and I can help others know that there are people here that can help.
Marissa Galicia-Castillo, MD, MSEd
Hamid R. Okhravi, MD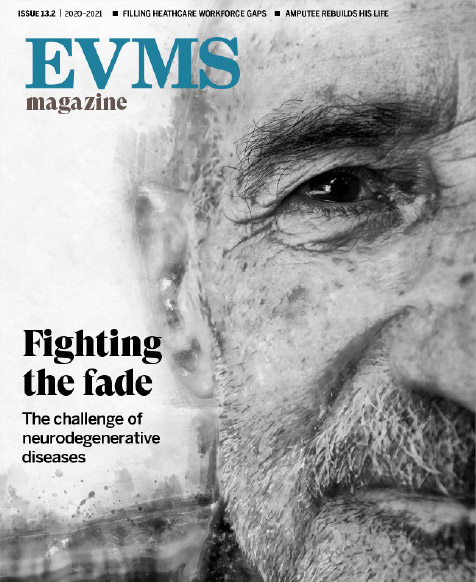 Never Miss a Story
The award-winning EVMS Magazine is published four times a year. Subscribe to be notified when the next digital issue is published and/or to receive complimentary copies of the print version.
Subscribe
Download a PDF