Team EVMS preps for Shamrock Marathon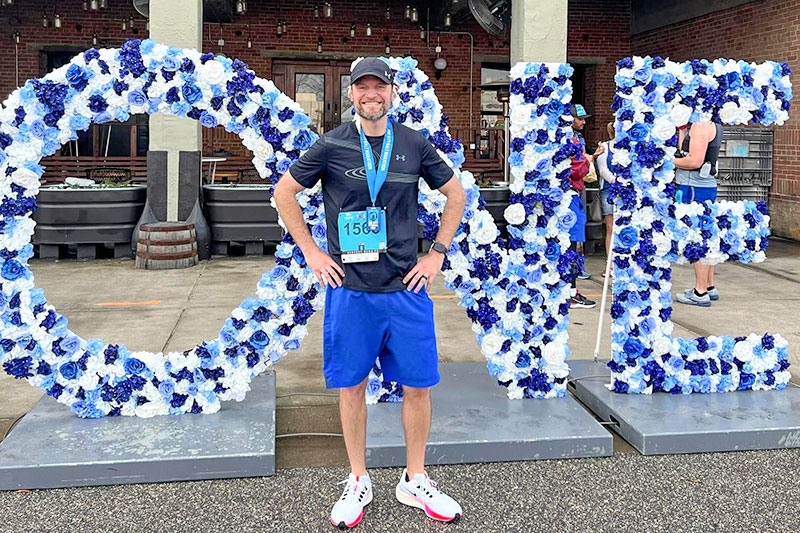 When Adam Henry runs the Yuengling Marathon in Virginia Beach in March, he'll be thinking about much more than the race itself. He also will be reflecting on his health and how his participation in the marathon could help others.
"I'm running the Shamrock Marathon as part of my own therapeutic journey in overcoming health challenges associated with ulcerative colitis," explains Henry, Manager I in Media Services at EVMS, pictured above. "I'm hopeful that I can be a part of someone else's journey in this community."
Henry joins a team of his colleagues as runners and will take part in a larger effort to raise funds to support the EVMS Fund.
"EVMS is a rewarding place to work and a great community to be a part of," Henry explains. "The EVMS Fund is critical to the school's education, research and patient care missions."
While Henry is a longtime runner, this is the first time he's participated in the Shamrock Marathon as part of Team EVMS.
"I love to run," he says. "There's something about getting out and about and exploring new places and seeing familiar ones from a new perspective. As crazy as it might sound, going long distances and challenging myself physically and mentally in a way that a marathon does is a lot of fun for me."
His No. 1 tip for other runners training for springtime races?
"Vary the type of runs that you do," he advises. "A typical week for me will include a few of steady sessions — my Golden Retriever, Rigatoni, likes those days — focused on cadence, breathing and heart rate management; a high intensity interval day; often a day of hill-training; and a long endurance run on the weekend. The most important factors I've found are to develop a plan that is sustainable within the framework of your day-to-day and to listen to your body and dial back when you need to."
Find out more and support Henry and all members of Team EVMS via the team members' individual race pages:
Interested in volunteering during the Shamrock Marathon Weekend, March 17-19? There are two opportunities for the EVMS community:
The volunteer registration password for both of these shifts is "EVMS." For more information, please email Laurie Harrison.