Students celebrate Match Day 2023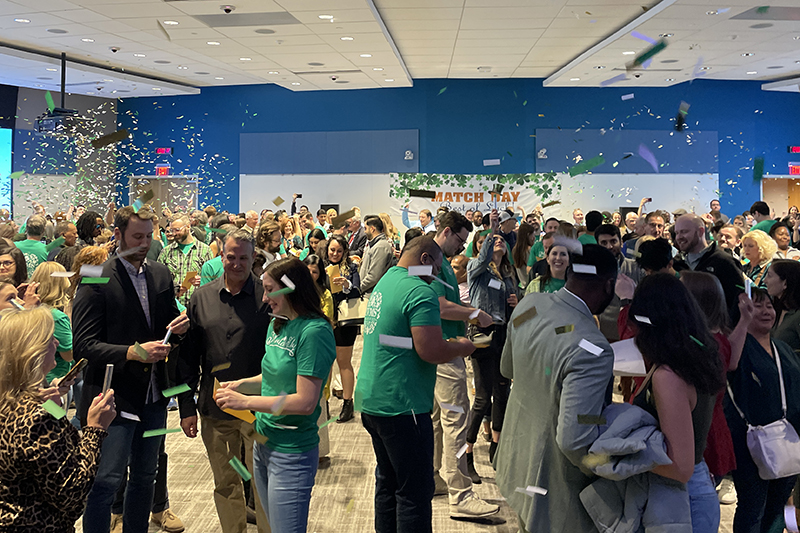 On Friday, March 17, graduating medical students at Eastern Virginia Medical School joined medical students across the nation in celebrating Match Day by learning where in the country they will spend their residences.
Students picked up their Match Day envelopes and many celebrated the news with family and friends inside Waitzer Hall.
According to the Association of American Medical Colleges, nearly 42,000 U.S. and international applicants matched to residency training positions at the nation's teaching hospitals this year. A total of 146 students participated in Match Day and are headed to several of the nation's most prestigious residency programs, including Yale, UNC and Mayo Clinic.
See the Match List 2023 of where EVMS students matched.
"This is an exciting time in the lives of our medical students," says Ronald Flenner, MD (MD '89) Vice Dean of Academic Affairs. "We are very proud of the work and dedication our students have put forth to get to this point in their medical school careers."
EVMS by the numbers:
Students matched in 25 specialties
43% of the class is pursuing primary care
The top represented specialties were internal medicine at 22%, surgery at 13%, pediatrics at 9%, anesthesiology and psychiatry at 6%, family medicine, emergency medicine and obstetrics and gynecology at 5%.
The matching process is organized by the National Resident Matching Program, which uses an algorithm to pair medical students and residency programs. Fourth-year medical students across the nation apply to residency positions in their chosen specialty — such as pediatrics or surgery. After hitting the interview trail, the students rank the programs according to those they would prefer to join. The programs, in turn, rank the students they feel will make the best fit. Nearly all applicants learned the results of that ranking process at the same time.
See all of the Match Day 2023 photos.