Students celebrate 2023 Military Commissioning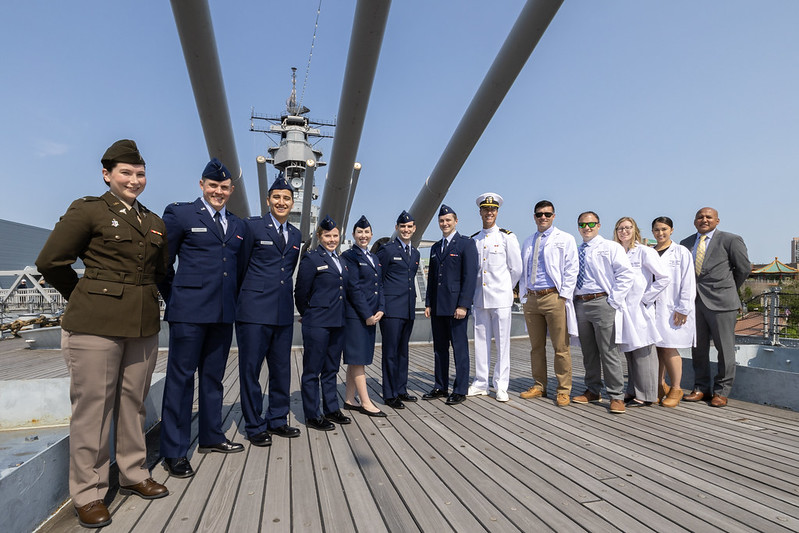 EVMS graduates who will serve in the military forces took the oath of office during a commissioning ceremony on Thursday, May 18.
13 students took part in the ceremony for their promotions in the Air Force, Army and Navy.
"I can think of no greater community service than defending our nation and providing care to those who confront danger on the country's behalf," says Dr. Alfred Abuhamad, President, Provost and Dean of the School of Medicine. "You have our respect for your choices, our admiration for your commitment and our deep gratitude for your willingness to serve our country."
Among those commissioned today were four Physician Assistant students, one Master of Public Health student and eight School of Medicine students.
"PAs in the military are often found in primary-care clinics providing care to active-duty members, their dependents, and retirees. But they can also be found in hospitals, specialty clinics, and providing care in deployed environments," says Dr. Kim Dempsey, PhD, MPA, PA-C (MPA '03), Director of the Physician Assistant program. "The collaborative practice and role flexibility of PAs make them a valuable medical resource for commanders who must assemble teams of providers who can care for military personnel in a variety of settings and environments."
See all of the Military Commissioning photos: https://flic.kr/s/aHBqjAEgzV.